Once I saw the salted caramel hazelnut spread I knew I wanted to bake something with it. Cookies was my daughters first choice. She wanted to bake them herself. My friend had given me a cookie recipe that was so easy even a kid could make them (or an amateur baker). Baking is all about measurements and this recipe can't be any more easier, with just three ingredients.
I love salted caramel and hazelnut spread, so having both in one same jar is like heaven to me. Have you given the new salted caramel hazelnut spread a try?
Salted Caramel Hazelnut Cookies
Ingredients
1 cup Salted Caramel Hazelnut Spread
1 cup Flour
1 Egg
Directions
Preheat oven to 350 degrees.
Mix salted caramel hazelnut spread, flour and egg in a large bowl until well combined.
Place about 1 inch balls on a cookie sheet, about 1 inch apart.
Flatten the dough balls a bit with the bottom of a glass.
Bake for about 7-8 minutes.
Transfer to a wire rack to cool.
This Salted Caramel Hazelnut cookies are not too sweet, I would say they are a perfect afternoon snack. This cookies are crunchy on the outside and chewy in the inside. Perfect for ice cream sandwich or simply dunk them in milk.
Enjoy with a large glass of milk and share!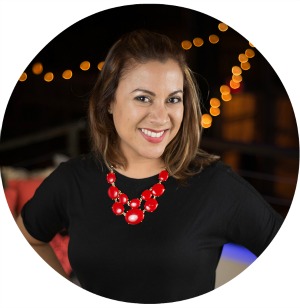 Hi there! I'm Wanda – the creator and author at My Sweet Zepol a healthy food, travel, and lifestyle blog. Passionate about food photography, food styling, entertaining and advocate about creating memories around the kitchen table. With a mission to create easy-to-make meals for the busy family.