Going to the Farmers Market is one of my favorite things to do with my girls and husband. When ever we go, we would buy veggies, and ready to eat food to enjoy on a nice picnic in the park. The park is beautiful. It has a fountain in the center, a very fragrant rose garden on another section and tall trees that gives a nice breeze of air. Love watching my girls climb on a low tree and play ball with their daddy.  I haven't met a kid that doesn't enjoy climbing on trees.
When you go to your local Farmers Market, what do you enjoy most about your trip? What is your favorite item to buy? I love the local honey, eggs from a local chicken farm and the very good quality vanilla I purchase there from a family business.
Once we got home with the many vegetables we bought at the Farmers Market I went on and started prepping our dinner menu. Salmon Salad with green apples, asparagus, walnuts a drizzle of lemon and olive oil. Simple, fresh and very satisfying.
Salmon Salad
Ingredients
1/4 cup Brown Sugar
2 tablespoon Soy Sauce
4 pieces of Salmon
Salt
Pepper
1 cup Asparagus
2 medium Green Apple
3 tablespoon Walnuts
1 1/2 package Mixed Greens
1/2 Lemon (juice)
2 tablespoons Olive Oil
Directions
Preheat the oven at 400 degrees.
Combine the brown sugar and soy sauce, set aside.
Season the salmon with the salt and pepper, place on a baking dish.
Place asparagus on a piece of aluminum foil drizzle with salt, pepper and olive oil. Place on the oven next to the salmon dish.
Bake for 15-20 minutes. Until salmon turns a pale color. Keep an eye on the asparagus.
About three minutes before is done baking top with the glaze, add some to the asparagus if you wish to. Remove from the oven and let cool a bit.
In the meantime cut the apple into small bite size.
Divide the mixed greens on the serving dishes, top with the salmon, green apple and walnuts.
Drizzle with lemon juice and olive oil.
Enjoy this very light and delicious salmon salad with the greens and fruit you bought at the farmers market (or store). Your family will love a refreshing meal after a very fun day out, specially during the heat of the summer. Pair with a tall glass of Arnold Palmer or your favorite Sweet Tea.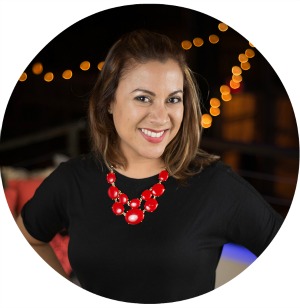 Hi there! I'm Wanda – the creator and author at My Sweet Zepol a healthy food, travel, and lifestyle blog. Passionate about food photography, food styling, entertaining and advocate about creating memories around the kitchen table. With a mission to create easy-to-make meals for the busy family.