While looking back at last years posts I realized that I had not posted a homemade gift that I made for a dear friend of ours. Last year we took a family road trip from Florida all the way to North Carolina, making some stops along the way. You can read more about it in Road Trip Part 1, Road Trip Part 2 and Tasting Savannah. We spend a couple of days in North Carolina in the company of our best man and his fiance.
They planned site seeing, activities and places to eat that were perfect for our family. The girls were delighted and we had such a wonderful time. North Carolina is a beautiful place.
Once I came back I started brainstorming for a great "thank you gift" to send them for being the best hostess ever. Salted Caramel Sauce was perfect, they could drizzle some over fresh fruits, make some milkshakes or even drizzle over vanilla ice cream. The possibilities are endless when it comes to caramel sauce and this sauce has a nice twist on the salty side. It's a wonderful idea, easy to make and loved by all!
Here's the recipe, hope you enjoy it and consider this as a wonderful homemade gift for any occasion. Like Mother's Day, Christmas gifts, to give as a hostess gift, add in a basket with other items or even make some batches for you to keep nearby.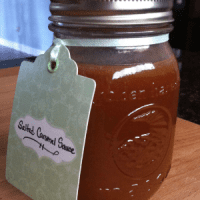 Salted Caramel Sauce
Looking for an easy salted caramel sauce recipe; we've got you covered. The perfect sweet to salty ratio to top your favorite ice cream or waffles.
Ingredients
1 cup Sugar
1/4 cup Water
3/4 cups Heavy Cream
3 1/2 tablespoons Butter, unsalted
1 teaspoon Sea Salt
additional Sea Salt, optional, for sprinkling over the caramel sauce when served
Instructions
In a saucepan combine the sugar and water over medium-low heat until the sugar dissolves. Increase the heat and bring to a boil, without stirring.
Boil for about 5 to 6 minutes, or until the caramel turns into a deep amber color.
Remove the saucepan from the heat and carefully whisk in the heavy cream. Be careful, the caramel sauce will bubble.
Then stir in the butter and the sea salt until well combined.
Finally transfer the salted caramel sauce into mason jars (or any other container of your choice).
This recipe will yield: 1 1/2 cups
Have you made caramel sauce before? If you have add some sea salt and take your recipe to a whole nother level. If you haven't them grab this recipe and make your very own batch of salted caramel sauce. You'll find yourself making it over and over again. It's worth every second of it!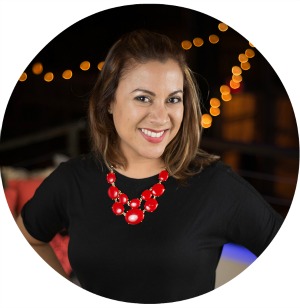 Hi there! I'm Wanda – the creator and author at My Sweet Zepol a healthy food, travel, and lifestyle blog. Passionate about food photography, food styling, entertaining and advocate about creating memories around the kitchen table. With a mission to create easy-to-make meals for the busy family.