We snack all throughout the day everyday. I know I do. So, are you one to grab as you go or do you plan out your daily snacks? I have my moments when I'm all about planning and others when I had no time to plan or just simply forgot to. Hey, ya'll, just like you I'm a busy momma trying to cover all the bases and somethings just fall over the cracks. Not perfect here! I know you hear me and can totally relate. But, hey, I've got you my friend. Here's the best snack I've come across from… as of yet. Sea salt baked kale chips! They are super easy to make and completely addictive. Here, I'll show you how to make them.
Sea Salt Baked Kale Chips
Yield: 6 servings

Prep Time: 5 minutes

Cook Time: 20 minutes

Total Time: 25 minutes

We snack several times a day everyday. Sea salt baked kale chips are good for you, easy to make and can be super addictive; in a good way.
Ingredients
1 Bunch of Fresh Kale
Extra Virgin Olive Oil
Sea Salt
Instructions
Heat oven to 275 degrees.
Wash the kale and dry very well. Tip: Take your time to dry the kale one at a time. If they are not well dry when baking they'll steam instead of crisp.
Cut the kale with your hands into larger than bite sizes. Note: They'll shrink while baking.
Toss the washed, dried and cut kale into a large bowl. Lightly toss in olive oil and lightly season with sea salt. Tip: Don't add too much sea salt (or seasoning) at this stage as the kale will shrink and you don't want it to be too salty. Add more late if you wish to.
Spread the kale in one layer on a large baking sheet. Tip: You'll need to bake in batches. Maybe three batches like I did. Don't overlap the kale, spread it out.
Bake each batch for 20 minutes.
Enjoy and share!
Didn't I tell you they were super easy to make? Yes I did! The best part is that they are also very versatile. You can season differently every time you make them or even every batch you make. I made three batches with the same seasoning; sea salt. Next time I'll try something more in the spicy side like smoked paprika, or red pepper flakes. I wonder how they will taste with some bacon bits. OMG! That sounds amazing.
Are you up for the challenge? Give it a try and make a batch. But first tell me, how would you season your baked kale chips? Maybe sea salt baked kale chips like this recipe is the your one true love, or maybe you are intrigued by the bacon bits idea. Yeah, me too! I'm all about bacon in everything. Share with me in the comment section below and lets get the kale chips baking going!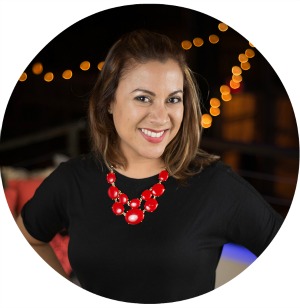 Hi there! I'm Wanda – the creator and author at My Sweet Zepol a healthy food, travel, and lifestyle blog. Passionate about food photography, food styling, entertaining and advocate about creating memories around the kitchen table. With a mission to create easy-to-make meals for the busy family.