Most of us go through our day-to-day thinking about food, planning for meals, celebrating with a specific dish, and sharing all over the social media for everyone to drool over. We picture casual meals done home to high-end restaurants featuring elaborate menus. Last weekend I had the opportunity to get to know a couple of farmers and hear about the growing season; all over an awesome lunch. It isn't everyday that we have a chance to talk to some of the people who help produce the food we find in our local grocery store shelves.
With a new year is starting everyone seems to be looking for healthy options to add to their dishes. Looking for a side dish that will please everyone in your family? Look no further, I got you covered. This sweet and chile green beans dish is made with the best and freshest ingredients. Red Chile Sauce from The Fresh Chile Co., a family own and operated farm in New Mexico and the green beans are locally grown (from Florida). You can't beat fresh ingredients.
Sweet and Chile Green Beans
Yield: 4 servings

Additional Time: 15 minutes

Total Time: 15 minutes

Sweet and Chile Green Beans is the perfect side dish. With sweet and spicy flavors suited to please everyone!
Ingredients
1/2 pound fresh Green Beans (ends trimmed)
6 Sweet Peppers - cut into strips (yellow, red and orange)
2 teaspoons Olive Oil
2 cloves Garlic (minced)
2 tablespoons Soy Sauce
2-3 tablespoons Red Chile Sauce (from The Fresh Chile Co.)
Salt and freshly ground black Pepper
Instructions
Blanch green beans in a large stock pot of well salted boiling water until bright green in color and tender crisp, about 4-5 minutes. Drain and shock in a bowl of ice water to stop from cooking.
Heat large skillet pan over medium heat. Add the olive oil and garlic, for 30 seconds.
Add the sweet pepper, green beans, season with salt and pepper. Immediately after add the soy sauce and red chile sauce.
Saute for another 4-5 minutes. Peppers will be tender.

End your dish with a drizzle of the Red Chile Sauce, optional.
I have fallen in love with this red chile sauce. Fresh Chile Company's Medium Red gives this recipe a an ideal balance between hot and mild while delivering a hearty, robust flavor of the Hatch chile. But, don't take my word for it. Go on and get yourself a bottle, you can thank me later!
I hope you give this recipe a try. Green beans are a great side dish and better when seasoned with sweet and spicy flavors. How would you use this red chile sauce?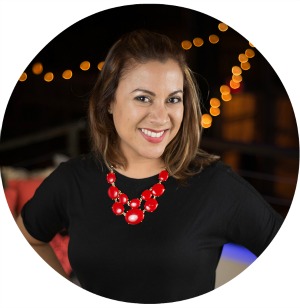 Hi there! I'm Wanda – the creator and author at My Sweet Zepol a healthy food, travel, and lifestyle blog. Passionate about food photography, food styling, entertaining and advocate about creating memories around the kitchen table. With a mission to create easy-to-make meals for the busy family.