This shop has been compensated by Collective Bias, Inc. and its advertiser. All opinions are mine alone. #BringTheTropicsHome #CollectiveBias
Summer is here but soon will be over and we still have many trips to the beach planned out. If you have kids you know they want to bring just about everything they have laying around with them to the beach. But, who's going to carry it all? We are always in the look-out for some cute bags for our beach trips. Here I want to share with you my girls diy project and how we bring the tropical into our own backyard. By transforming t-shirts into beach bags & hand-painting one with a beach view, palm trees and beautiful sunset, and another one with bright colorful flowers.
Tropical No-Sew Beach Bag
Materials needed:
T-shirt
Scissors
Pencil
Ruler
Watercolor or Acrylic Paint
Fabric Medium
Brushes
Dish (to mix paint in)
Piece of cardboard or plastic (to place inside the t-shirt before painting on it)
Instructions:
Lay out your t-shirt and lay it flat.
Determine the best spots to cut the sleeves and neckline. Measure down how deep you want the bag to be. Then measure 3 more inches and mark that spot.
Cut each sleeve off, the neckline and the bottom of the shirt. Remember, you have everything marked and measured already.
Keeping the bottom of the shirt lined up start cutting the bottom of the shirt into 3/4 to 1 inch wide fringes by about 2 inches tall. You want to be as even as possible.
Once cut, insert a piece of cardboard or plastic inside the t-shirt. Between the fabric. This step will prevent the paint to go through the back side of your bag.
Mix 2 parts of the watercolors of your choice (or acrylic paint) with 1 part medium. The medium will help your art adhere to the fabric and not wash off once you decide to throw it into the washing machine.
After your art is finished let it dry completely. A couple of hours will do.
Once completely dry, cut the very first and last fringe piece at the side seem to create 2 pieces of fringe.
If you want your bag to hide the fringes, turn the t-shirt wrong side out and start tying the front and the back fringes together. Once all the fringes have been tied together, you will notice the bag has small holes where you tied the fringe together. To fix this all you have to do is tie together the fringes on each side of the whole together. Keep doing this until every strip is double tied.
If you want your bag with the fringes showing, start tying them with the t-shirt right side out. They end up looking super cute and fun!
Finally, flip the bag right side, out and you are done. Yay!
Painting and crafting is one of our favorite things to do as a family, but oh boy, do my girls get dirty. I love a product that is great at removing all the stains in my family's clothes. Painting fabric is messy all over, but the fun is so much worth it. I was very excited to have found all® Fresh Tropical Mist™ while running some errands in my local Dollar General store. A new fresh tropical scent, with the same powerful clean.  Just what every mom needs.
Mixing watercolor and painting fabric with lovely paradise views that reminds you of home is a lovely project to make, but it can be a messy job too, specially when kids are involved. I trust all® Fresh Tropical Mist™ to come to the rescue; my reward is the freshness of the tropics, that takes me back to my beloved childhood home, with the trusted cleaning power. Containing in-wash pre-treaters for great stain removal like the dreaded grass, mud, watercolor paint, and grape juice stains. Trust me; they all go hand in hand with just about every outdoor activity we've ever had in our backyard. And can you even believe it costs 30% less than the leading brand? That makes it a winner for me. Want to give all® Fresh Tropical Mist™ a try? Click here for a $1.00 off coupon and here to find the NEW fresh tropical mist in a store near you.
The fresh tropical smell of all® Fresh Tropical Mist™ makes me feel right at home. My home in Puerto Rico, where my parents still live in and we get to go back as often as we can. Where you can enjoy a fresh tropical air from the mountains of the center of the island, where the flowers are blooming everywhere and the smell is soothing and lovely. My entire family is often reminded by those long afternoons playing, laughing, laying in the hammock under the palm trees in my parents backyard, driving up to the beach, watching the sun set, and the memories made with the family that is so far away. You can probably relate to that home away from home where you still have family members and memories of your childhood. Precious, right?
We were inspired to bring the tropics right into our own backyard with painted no-sew beach bags, the perfect craft for everyone, including kids. Now tell me, how do you #BringTheTropicsHome?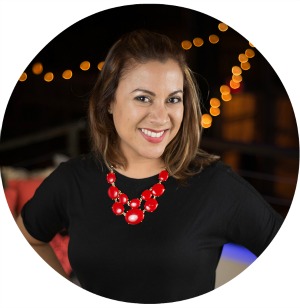 Hi there! I'm Wanda – the creator and author at My Sweet Zepol a healthy food, travel, and lifestyle blog. Passionate about food photography, food styling, entertaining and advocate about creating memories around the kitchen table. With a mission to create easy-to-make meals for the busy family.