My daughter loves tuna cakes. Even she can make them, that's how easy this recipe is. She says this is one of the two ways I get her to eat carrots. The other is on carrot cake. It's true, I'm cool like that.
One of the things I like most about tuna cakes is how much they remind me of crab cakes. Tuna cakes are wonderful with fresh green salad with a citrus salad dressing (oh so good), or with a side of pasta, or roasted potatoes. This tuna cakes are cheesy, are held together with hearty stove top stuffing and made in the skillet for a beautiful crispy end.
Tuna Cakes
Ingredients
1 can (6oz) Tuna Fish
1/4 cup Carrots
1/2 package (3oz) Stuffing
1/2 cup Cheddar Cheese (shredded)
1/4 cup Mayonnaise
1/3 cup Water
Olive Oil (or cooking spray to grease the skillet)
Directions
Mix all the ingredients together in a large bowl and set aside on the refrigerator for about 30 minutes.
Heat a nonstick skillet over medium heat. Grease with the oil or spray with the cooking spray for each set of tuna cakes.
Using an ice cream scoop or large spoon shape each tuna cakes into patties.
Add patties to the skillet in batches, 2 or 3 at a time is fine. Don't over crowd the skillet.
Cook for about 2-3 minutes on each side or until golden brown on both sides.
Depending on the size you end up making them you can get about 10 tuna cakes.
Serve while still warm and enjoy!
The side choice for our family dinner was veggie orzo a very light and colorful presentation, there's no doubt about that. We enjoyed this easy meal that took about 30 minutes to make. Make sure you make enough for seconds, your family and you will for sure want another serving.
If you haven't ever tried making your own tuna cakes I want to invite you to give this recipe a try. You will love them, your kids (if you have kids) will love them and they are so easy to make that you'll want to repeat them many…many times. This is a wonderful recipe for a lunch or a weekend meal. Even more perfect for unexpected guests when you want to be a great hostess, but haven't taken any meat out of the fridge. Go for this recipe and put it to the test, (you can thank me later).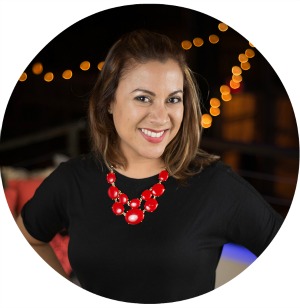 Hi there! I'm Wanda – the creator and author at My Sweet Zepol a healthy food, travel, and lifestyle blog. Passionate about food photography, food styling, entertaining and advocate about creating memories around the kitchen table. With a mission to create easy-to-make meals for the busy family.