My husband loves Mexican food. We happen to have an authentic Mexican restaurant about an hour away from our house that we occasionally go to. Occasionally means on his birthday or Father's Day. One of the items in the menu he always requests is the Horchata drink. Horchata is a refreshing beverage made from pureed long grain rice that is popular in Mexico and Europe. He gets so happy when it arrives to the table, like a kid in a candy store. I enjoy watching him enjoy his Horchata drink.
I have been thinking for a while to surprise him with this drink and for some reason life keeps on happening and other things seems to need my immediate attention that I hadn't made him an Horchata. But, today, was the day.
After searching and researching for recipes I believe I came up with a combination of many that is just perfect. If you ever search "Horchata" you will find so many variations that it can become overwhelming, specially if you are like me, not originally from Mexico or didn't grow up drinking Horchata on a regular basis. Here's one very good and refreshing Horchata for you all to enjoy as well.
Horchata Drink
Yield: 5-7 cups

Additional Time: 30 minutes

Total Time: 30 minutes

Refreshing drink made with rice, cinnamon, condensed milk and lots of water. It's absolutely divine and perfect for any gathering, and can be enjoyed any time of the year. Specially during summer time!
Ingredients
1/3 cup Rice, (long grain)
1 Cinnamon Stick
1 cup Milk
1/2 teaspoon Vanilla Extract
1 (14oz.) can Condensed Milk
4-6 cups Water, (go by your taste)
Ground Cinnamon, (to garnish)
Cheesecloth
Instructions
Toast rice and cinnamon stick on a pan until it releases a nutty aroma, stirring constantly to prevent from burning.
Once toasted, put the rice on a blender and process until it resembles a powder. This step may take a couple of minutes. Be patient.
Add the milk and vanilla extract. Pulse to combine.
Then comes the condensed milk and pulse again to mix well.
Finally add in the water.
Transfer all the liquids into a larger container passing it through a sifter.
Repeat, pass the entire mixture over the sifter.
Now, using a cheesecloth, strain the Horchata mixture through a wet cheesecloth into the serving pitcher.
Chill completely, serve over ice.
Top with ground cinnamon right before serving.
Notes
If your blender is like mines and doesn't hold as much liquid all at once, just add as much as you are comfortable with.
I recommend you give this recipe a try, it is easy to make (it takes about 30 minutes) and just let it chill for a while in the fridge before serving. This Horchata is refreshing and perfect for those warm days that are approaching. Or among us already (for some of us).
Cheers to Cinco de Mayo and enjoy your Horchata.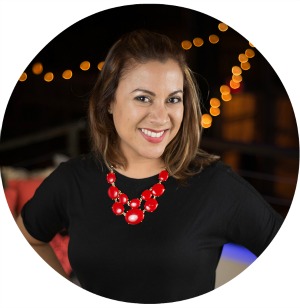 Hi there! I'm Wanda – the creator and author at My Sweet Zepol a healthy food, travel, and lifestyle blog. Passionate about food photography, food styling, entertaining and advocate about creating memories around the kitchen table. With a mission to create easy-to-make meals for the busy family.