I am obsessed with cheesecakes and have been making them like crazy. I love trying new flavors in desserts. Flavors that I taste in other things I eat or drink like this strawberry lemonade mini cheesecake. Who hasn't had a good refreshing lemonade? A strawberry lemonade? Imagine that refreshing combination of flavors on a cheesecake. Perfection.
I decided to make this dessert into minis because it was perfect for the event I was taking them to. We were getting together with family for a nice pool and BBQ afternoon and I was in charge of desserts. Yay! Individualized portions are always a good idea.
Strawberry Lemonade Mini Cheesecake
Ingredients
1 cup Graham Cracker (crumbs)
2 tablespoons Sugar
3 tablespoons Butter (melted)
2 pkg. (8oz. each) Cream Cheese (softened)
2/3 cup Sugar
2 Eggs
1 tablespoon Lemon Zest
2 teaspoons Lemon Juice
1/2 teaspoon Almond Extract
2 cups Strawberries (fresh or frozen and sliced)
Directions
Preheat oven to 325 degrees.
Mix the graham crumbs, 2 tablespoons of sugar and butter. Spread evenly over 12 paper lined cupcake cups (cupcake pan).
Beat cream cheese with sugar until creamy.
Add the eggs one at a time. Scrape the sides to combine completely.
Add the lemon zest, lemon juice and almond extract, (you can swap the almond extract for vanilla extract).
Fill each cup to about 2/3 full.
Bake for 20-25 minutes or until edges are lightly golden and centers are almost set.
Cool completely, then refrigerate for 2 hours.
Slice the strawberries and top each mini cheesecake to your desire.
Tip: you can also top each strawberry lemonade mini cheesecake with whipped cream and the fruit of your choice.
When I took this precious mini cheesecakes to my in-laws I forgot to take some lemons for prop purposes. That only means one thing, I have to re-make this strawberry lemonade mini cheesecakes again and re-take some pictures (better pictures). But, that's cool, you see I'll take one for the team. A girls job is never done. "Wink". Make sure to come back and see if new pictures are up.
Enjoy and share!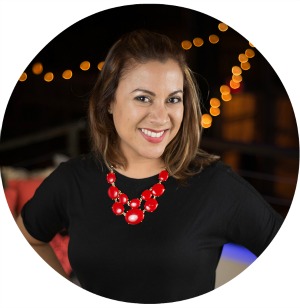 Hi there! I'm Wanda – the creator and author at My Sweet Zepol a healthy food, travel, and lifestyle blog. Passionate about food photography, food styling, entertaining and advocate about creating memories around the kitchen table. With a mission to create easy-to-make meals for the busy family.