Grand opening!
Cooper's Hawk Winery and Restaurants is opening its doors today in Waterford Lakes Town Center, Orlando Fl.  The first of two locations in Orlando. The other Orlando location will be on International Drive and it's expected to open in Fall 2014 (I will keep you up to date with more news about the official opening date, so make sure to stay tuned).
Casual dining experience with warm service and a menu created with its own handcrafted wines in mind. The menu features unique dishes with bin numbers listed next to each item on the menu, guiding guests to their selection's perfect wine match. This is a great feature for me, since pairing a wine to the meal can become daunting, not here, they got you covered. With over 40 types of Cooper's Hawk wines on site, domestic and craft beers plus a full cocktail bar for guests to enjoy. Got your attention? I knew it! Well, here's more.
Once you enter Cooper's Hawk Winery & Restaurants you will experience a beautifully made Napa-style Tasting Room where you can sample the winery's latest selections. A tasting includes eight pours and starts at $7. The staff is very friendly and knowledgeable and can guide you through the wine tasting process. Which is always helpful for those that (like me) know very little about wine but still want to enjoy the experience and taste amazing wine.
Wine pairs perfectly with chocolate and Cooper's Hawk has you covered in this area as well. House made truffles by two staff pastry chefs. Each month they will be highlighting new flavors that goes well with the season. That will definitely have me in the look out. A truffle can be added onto a tasting for $1. Or you they can be purchases separately for $2.49 ea. (prices subject to change).
(Variety of House-Made Truffles)
You can also browse the gift shop for food and wine related items, as well as custom designed gift baskets.
(Entrance shop display)
Wish to say "Thank You" to Cooper's Hawk for hosting an afternoon where I and some amazing guests had the pleasure to sample a handful of Cooper's Hawk appetizers and a variety of their exceptional wines. Tim Mahler, General Manager and part of the staff that will be running this very expected restaurant where there to greet us, share their passion for food and wine, and give us a tour of the beautifully designed and decorated winery and restaurant.
We were greeted in an uniquely designed winery inspired private party space. These space allows guests the opportunity to experience the rich culture and timelessness of the wine making world. They also offer special private party packages perfect for celebrations, business meetings and group dinners.
(Caprese Flatbreads – ripe tomatoes, mozarella, red onion, pesto, jilienne basil and balsamic glaze)
(Chef Matt's Cheese Tasting – a wine friendly selection of cheeses)
(Blackened Ahi Tuna – seared rare with wasabi sauce and pickled ginger)
(Asian Pork Belly Tostadas – scallions, sesame seeds, cilantro, radish and sweet chili BBQ sauce)
(Mexican Drunken Shrimp – bacon wrapped shrimp, tequila lime butter sauce and fresh guacamole)
(Chicken Al Pastor Stuffed Mushrooms – traditional mexican spices, chicken chorizo, pepper jack cheese, cilantro, crispy tortilla strips, sour cream and chipotle tomato sauce)
Cooper's Hawk has wine is available for purchase on site. You may also be interested in joining an exclusive monthly wine club. The program is available for $18.99 a month for one bottle. Which can be picked up at any Cooper's Hawk location or delivered for an additional fee. The club is broken down into the Red Club, White Club, Variety Club or Sweet Club. Cooper's Hawk Wine Club is one of the largest in the country and offers members exclusive classes, parties and events. I personally can't wait to go with my husband and explore they various options and pick the one that best suits us. We are not regular drinkers, but do enjoy a good wine from time to time.
If you order a red wine bottle for your table be prepared for the arrival of a decanter. This decanted is for the use of red wine only. You can serve it yourself of if you are like me that prefers to leave the fragile things to the experts, they will be more than glad to take care of it. A conversation piece for sure!
Here's Tim Mahler, General Manager showing us one of Cooper's Hawk Winery & Restaurants features. A barrel sample of the Cooper's Hawk Bordeaux Reserve.
I am personally looking forward to returning to Cooper's Hawk Winery and Restaurants, bring me family, enjoy good food, amazing company and repeat. Expect more about Cooper's Hawk desserts and their perfect wine match here in future posts.
Cooper's Hawk Winery & Restaurants (click on link for menu and more information) – 529 N. Alafaya Trail, Orlando, Fl. – no reservations needed, but if you prefer one call 407-374-2464.
Disclosure: I was invited for an afternoon of appetizer and wine tasting. No cash compensation was    given to write this post. All opinions and pictures are 100% mine.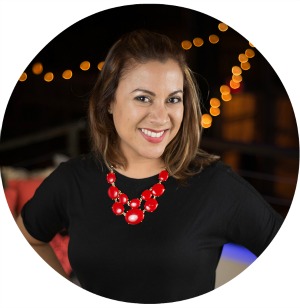 Hi there! I'm Wanda – the creator and author at My Sweet Zepol a healthy food, travel, and lifestyle blog. Passionate about food photography, food styling, entertaining and advocate about creating memories around the kitchen table. With a mission to create easy-to-make meals for the busy family.