I'm always looking for meals to make on the weekends. Specially for brunch. Brunch is perfect for  weekends, since no one has to wake up early.
(can you see all of that cheese? Mmm…)
This cheesy sausage frittata is easy, one skillet meal, and satisfying enough to last til dinner time. At least, it could if you weren't anyone from my family. Somehow, my kids seems to always be hungry.
Cheesy Sausage Frittata
Ingredients
4 links Italian Sausage (mild)
1 bag (28 oz) of Frozen Potatoes, onions and peppers
4 Eggs (lightly beaten)
1/8 cup Milk
1/8 teaspoon Paprika
1/8 teaspoon Ground Pepper
1/2 cup Cheddar Cheese (shredded)
Directions
Heat a nonstick skillet over medium heat. Add sausage, cook for 4 to 5 minutes.
Remove sausage from skillet.
Using the same skillet, add the entire bag of potatoes, onions and peppers.
In the meantime, using a small bowl, mix eggs, milk, paprika and ground pepper.
Pour egg mixture evenly over potato mixture. Cover and cook for about 10 minutes.
Uncover, cook 5 minutes longer or until egg mixture is set but still moist on top. Add the sausage.
Remove from the heat. Sprinkle cheese over the top.
Let stand until cheese is melted, 3 to 5 minutes.
I paired my brunch (Cheesy Sausage Frittata) with fried plantain. You could have sweet bread, fries, or pancakes. I love fried plantain, my girls prefer the sweet plantains, they love sweets. Now you see why this blog's name is My Sweet Zepol. Zepol being my last name backwards and sweet is a perfect description of what we love the most. Sweets!
(picture of some left over that we devoured the very next day with sweet bread, oh yeah baby!)
Serve and enjoy!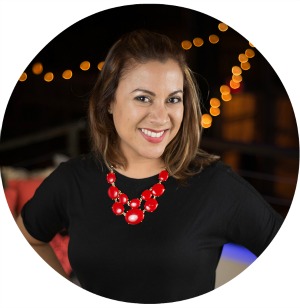 Hi there! I'm Wanda – the creator and author at My Sweet Zepol a healthy food, travel, and lifestyle blog. Passionate about food photography, food styling, entertaining and advocate about creating memories around the kitchen table. With a mission to create easy-to-make meals for the busy family.