I love pastel colors and spring is the perfect season for pastel colors. You find them in candies, flowers, clothing and just about everywhere you look at has some sort of cute pastel color.
Yesterday we celebrated Easter Sunday, a day to remember the reason why Jesus died in the cross for and that He is risen. We always get together with family and enjoy the beautiful day. This year I decided to make a sweet treat to nibble on before dinner time. Chocolate barks are very dear to my heart. My very first followed recipe was a chocolate bark from a booklet my sister gave me (years ago). I still have that booklet and love it.
This chocolate bark is inspired by the pastel colors of the season. I used good white chocolate, pink and yellow colored morsels and one of my favorite finds, M&M Milk Chocolate Candies in the shape of eggs. No peanuts here, just real milk chocolate! I'm very excited!
Easter Chocolate Bark
Easter chocolate bark is one of the easiest ways to use up all that candy inside the eggs your kids will be hunting for. Chocolate bark for the win!
Ingredients
1 (10 oz package) White Chocolate, good quality
1 cup Yellow Colored Morsels
1/2 cup Pink Colcored Morsels
1/2 (10.90 oz package) Egg Shaped Chocolate Candies, I used M&M's
Sprinkles, Spring color Flowers and Bunnies
Instructions
Prep a cookie sheet with parchment paper (or wax paper).
Melt white chocolate in about two - 30 second intervals in the microwave. Stir well.
Spread melted chocolate into the cookie sheet, starting from the middle. Don't spread it all the way to the end, about 8x12".
Melt the yellow and pink colored morsels in separate bowls and spread over the white chocolate. Use your imagination. I designed it as a mixed swirl. Leave some for later to drizzle over the candies.
Use about half the package of the milk chocolate candies, cut some in half (carefully). Drop them over the still melted chocolate, make sure every corner has some chocolate candies. You want everyone to enjoy a full bite of candies and each color of the melted chocolates.
Sprinkle some flowers, or bunny's, or even confetti over the candy bark. Use as much or as little as you like. I used about 1 tablespoon, since that was all I had in hand.
Finally, drizzle the remaining pink and yellow chocolate. You may have to put it back in the microwave for another 30 seconds and re-melt. Drizzle like mad and have fun.
Put in the refrigerator for about 1 hour. Cut into pieces.
Enjoy!
What a work of art! The combination of beautiful colors and flavors makes this Easter Chocolate Bark a work of art. Now, here's a tip for you, if you wish to take this bark to a whole new level just add some flavorings of your choice. Like a tablespoon of peanut butter to the white chocolate, vanilla, almond extract or any other extract of your choice.
This bark makes a great party favor too!
Enjoy and share!
Happy Easter!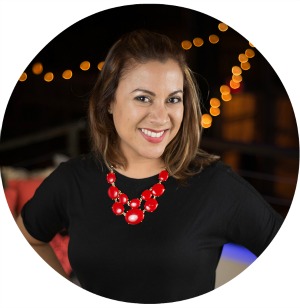 Hi there! I'm Wanda – the creator and author at My Sweet Zepol a healthy food, travel, and lifestyle blog. Passionate about food photography, food styling, entertaining and advocate about creating memories around the kitchen table. With a mission to create easy-to-make meals for the busy family.