Like many other people's one of my resolutions is to eat healthier and feed my family healthier meals. Figuring out what to cook every day is not an easy task. It seems like I'm thinking about food (what to cook) all day long. After breakfast I'm thinking about the lunch menu, after lunch I'm thinking about the meal (dinner/supper) menu and don't forget dessert. It can be a little overwhelming.
I normally "try" to take some time off during the weekend, typically on Sunday and brainstorm a meal plan for the week. A variety of dishes that spreads rice, pasta, veggies, salads, stews, and so on. Then, I remember having some lettuce wraps as an appetizer during our last road trip to Boston. One of those dishes that keeps on coming to mind, but somehow you just never try to make. Well, this is a recreation (my version) of them.
Turkey Lettuce Wraps
Yield: 8 servings

Prep Time: 10 minutes

Cook Time: 10 minutes

Total Time: 20 minutes
Ingredients
1 1/2 tablespoon Olive Oil
1 lb. Turkey Ground Meat (93% lean)
1 Shallot (chopped)
1/2 Red Onion (medium, chopped)
2-3 Sweet Peppers (red, yellow, orange)
1 Garlic Clove (chopped)
1/3 cup Pecans (toasted and chopped)
2 tablespoons Soy Sauce (reduced-sodium)
2 tablespoons Rice Vinegar
Ground Pepper (to taste)
2 tablespoons Fresh Cilantro (chopped)
Chow Mein Noodles
1 large head of Lettuce (or romaine) separated into leaves.
Instructions
Heat oil in a medium skillet over medium high heat.
Add turkey, shallot, red onion and sweet peppers. Cook for about 4-6 minutes or until the turkey is cooked and the veggies are softened a bit.
Add garlic, pecans, soy sauce and rice vinegar. Cook for 2-3 minutes stirring occasionally.
Add ground pepper and cook until most of the liquid has evaporated.
Add cilantro, mix well.
Remove from the heat.
Spoon mixture onto lettuce leaves, top with chow mein noodles and some fresh cilantro (optional).

Enjoy!
Notes
Tip: Feel free to drizzle some soy sauce over the lettuce once served.
Ground turkey with lots of chopped fresh veggies makes a light and delicious filling for lettuce cups. Give them a try and let me know what your thoughts are. They taste great hot or cold too! A perfect left over meal to take to work the next day. Love that!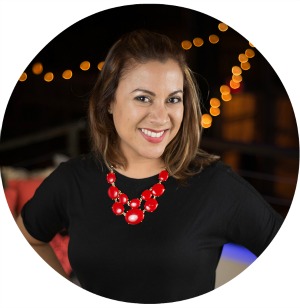 Hi there! I'm Wanda – the creator and author at My Sweet Zepol a healthy food, travel, and lifestyle blog. Passionate about food photography, food styling, entertaining and advocate about creating memories around the kitchen table. With a mission to create easy-to-make meals for the busy family.