If there's one thing I love about maintaining my hair, it has to be the results. The beautiful curls I get after a good mask treatment are just amazing. This post is all about 5 tips to treat curly hair specially during the winter season. To read this post in Spanish please go here.
Why and how to treat your curls during the cold season!
The main problem associated with curly hair is that it becomes frizzy, prone to split ends, dries out, and breaks easily. Therefore, they need special care and good conditioning to avoid problems with curly hair. That is why I want to share with you styling products and methods that will really work for curly hair.
5 Steps to Maintain Curly Hair During the Winter Season.
Discover your Hair Find out what your hair likes and dislikes. It is important to know which are the best methods that work for and against your curly hair. Your hair can be curly and greasy or curly and dry. Identify the quality of your hair for when it is time to choose the products that you will be using during your winter curly hair treatment.
Identify what your favorite style is It is very important that you identify what your goal is regarding your curly hair and how far your hair can go. If you have thick hair with firm curls, it will be very difficult to finish with loose curly hair. Now, this does not mean that you cannot have a favorite style. Identify what your style is and find the right hair products. Do your homework and start experimenting.
Use great products. There are a wide variety of products on the market to help keep curly hair healthy during winter. Look for those products that work well for your hair and use them as directed by the manufacturer. Check out some of our favorite products.
Condition curly hair When you're washing her hair and applying conditioner, don't rinse it out completely. Leave some leave-in conditioner on your hair and towel dry it. You can blow-dry your hair naturally or with a hand dryer. Here you can find some products to wash and condition your hair.
Treatments for Damaged Hair Another recommendation is to use conditioners to restore hair. These hair masks are mainly to treat any damage that the hair has. Use a moisturizing product because it leaves hair frizz-free while being easier to handle and style. Treat your hair to a minute of wonderful nutrition with the hair mask. Read the instructions for each product carefully.
Hair masks not only smell like heaven in a bottle, but can be applied for different levels of repair. You can apply the cream after shampooing and leave it to act for a minute as a mask, it can be applied after shampooing from root to tip and rinsed off as a conditioner or applied to damp hair for intense repair.
Use dry shampoo. Have you heard of dry shampoos? It is a product that is added to the hair between washes. In the case of people with curly hair, we recommend that they use it after the day of washing their hair. This will help your curls stay the same way they were styled for more days than you expected.
Comb your hair. When choosing styling products for curly hair try to use one product at a time. This can be a mousse or gel for curly hair. Our preference is light, non-greasy products that add volume to curly hair. Use your fingers or a wide comb to comb your curls. This will prevent your curls from breaking and your hair from getting like a hedgehog.
Do not apply products near the root of the hair. When you apply products close to the roots of your hair this will make your hair greasy very quickly. The hair will feel heavy causing the curls not to last long.
Pick up your hair to sleep. When you're ready to go to sleep, tie your hair up with a hair tie or pin. Put your hair high so that your curls don't get pinched while you sleep.
Create a routine. Being a person with curly hair, deep repair is a must every month or so. Maintain a routine to maintain your hair care. This can be weekly, monthly or every two months. You can also apply some simple products weekly, while the deep treatment leaves it for once a month. The important thing is that you make time to take care of your hair throughout the year.
Being blessed with birth curls, I am also blessed with baby hair, tight versus loose curls and yes sometimes even split ends. No matter how much I try to remember, I often forget to take a minute to treat my hair and make sure it also gets the love it needs.
When I take the time to take care of my hair – not only did my hair smelled heavenly it also felt wonderful. My curls looked fuller and my baby hairs really calmed down. Now, I take time to give my curls a little love on a regular basis, because they are so worth it and I love the way my hair looks in its natural form.
Know that we all need to treat our hair from time to time to make it look healthy and beautiful. The weather is cold one day and icy the other. There is also the fact that it is sunny and hot on other days. We are having some crazy days as the weather calms down. In the meantime, we hope you find these tips on how to treat your curls during the cold season, which you won't want to live without.
Statistics say that one in three women in the United States has curly hair. Take care of your curly hair during the winter season. Give your curly hair a new, beautiful, softer and shinier look during winter. Again, for the Spanish version of this post go here. Now let us know what is that hair treatment of product you can't live without!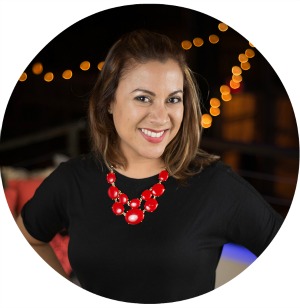 Hi there! I'm Wanda – the creator and author at My Sweet Zepol a healthy food, travel, and lifestyle blog. Passionate about food photography, food styling, entertaining and advocate about creating memories around the kitchen table. With a mission to create easy-to-make meals for the busy family.