When I am entertaining, I want everyone to have my full attention and I also want to enjoy their company. Cooking, eating, laughing and creating memories is what having my loved ones around is all about. Here I present several desserts inspired by family recipes. I hope it brings back many memories for you or provides you with inspiration to recreate those recipes passed down by family members for generations. To see this post and all 3 desserts inspired by family recipes in Spanish please visit here.
If I know that I will invite family and friends, I will prepare the dessert in advance. One of my go-to dessert recipes is my Coconut Tres Leches Cake, which I make with coconut milk. On this occasion, I'm giving it a new touch and I have prepared it with the drink called Horchata.
Sounds great right? Horchata is a refreshing Mexican drink made with rice, milk, vanilla, and cinnamon. Horchata can be enjoyed served with ice. Here is my Horchata drink recipe, is super easy to make. Tell me what your thoughts are? I'm sure you will love it as much as we do.
3 Desserts Inspired by Family Recipes
Recipe #1 Horchata Tres Leches Cake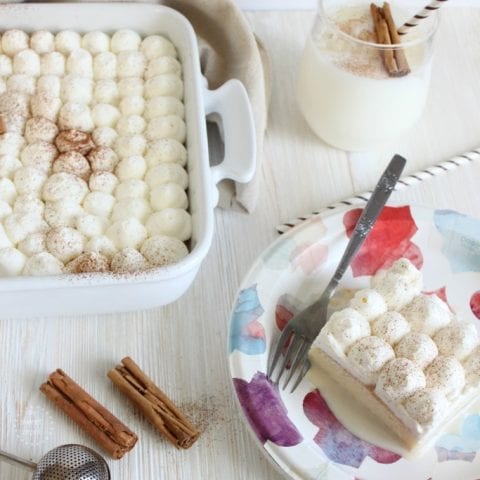 Horchata Tres Leches Cake
Yield: 24

Prep Time: 20 minutes

Total Time: 20 minutes

A tres leches cake with a twist. Made with horchata as one of its milk. Making this cake a true indulgence for any occasion.
Ingredients
Cake
1 cup All Purpose Flour
1 1/2 teaspoon Baking Powder
1/4 teaspoon Salt
5 Eggs, divided
1 cup Sugar, divided
1 teaspoon Vanilla Extract
2 cups Horchata drink, divided
1 (12oz) can Evaporated Milk
1 (14oz) can Sweetened Condensed Milk
Whipped Cream
2 cups Heavy Cream, cold
3 tablespoons Powder Sugar
1 teaspoon Vanilla Extract
Cinnamon Powder, to garnish, optional
Instructions
For the cake
Spray with cooking spray a 9x13in pan and set aside.
Combine flour, baking powder and salt in a bowl, give it a mix and set aside.
Separate the eggs. Dropping the egg whites in a mixer and the egg yolks in a large bowl.
Beat the egg yolks with a 3/4 cup of sugar until it turns a pale yellow.
Stir in 1/3 cup of the Horchata" target="_blank">Horchata drink and vanilla extract.
Beat the egg whites on high speed until soft peaks form. Slowly pour the remaining 1/4 cup of sugar and beat until egg whites are stiff but not dry.
Add the flour mixture to the egg yolk mixture and mix until well combined.
The next step is to carefully fold the egg whites into the cake batter.
Pour over the prepared pan and bake for 15-20 minutes or until after pocking with a toothpick it comes out clean.
Mix the milks together in a bowl, including the remaining of the Horchata" target="_blank">Horchata drink.
Pierce the cake gently with a skewer wooden stick or a fork several times.
Slowly drizzle all the milk over the cake, making sure that every bit had its share of milk. Let it rest and cool off completely.
Set aside or refrigerate until you make the whipped cream.
For the whipped cream
Spread over the surface of the cake.
Sprinkle some cinnamon powder. This serves as a garnish and also adds more flavor to the cake.
Nutrition Information:
Yield: 24 Serving Size: 1
Amount Per Serving: Calories: 148Total Fat: 8gSaturated Fat: 5gTrans Fat: 0gUnsaturated Fat: 3gCholesterol: 62mgSodium: 76mgCarbohydrates: 16gFiber: 0gSugar: 12gProtein: 3g

One of my friends is a dessert lover. When I know she's sick or a little down, I take a some time to bake her favorite dessert. And those are, Alfajores Cookies. Alfajores cookies have a creamy dulce de leche filling.
These cookies are absolutely delicious, and they melt in your mouth; even days after being baked. Making your own dulce de leche is also very easy, but there is nothing wrong with purchasing it. Be sure to put the amount you want in each cookie set. These cookies travel well too, making them perfect for mailing in a care package I'm pretty sure anyone will love to receive. Who wouldn't want to receive alfajores cookies or any other sweet, right? I'm raising my hand really high and I bet you are too. Here's how I made another one of the 3 desserts inspired by family recipes.
Recipe #2 Alfajores Cookies
Melt In Your Mouth Alfajores Cookies
Yield: 20

Prep Time: 45 minutes

Cook Time: 15 minutes

Total Time: 1 hour

If you are craving some cookies with a tall glass of milk (or coffee), I got you covered with some homemade melt in your mouth alfajores cookies filled with dulce de leche. A Latin cookie recipe you will love and want seconds off.
Ingredients
1 cup Cornstarch
3/4 cups Flour
1 teaspoon Baking Powder
1/2 teaspoon Baking Soda
1/4 teaspoon Salt
8 tablespoons Butter, unsalted, softened
1/3 cup Sugar
2 large Egg Yolks
1 tablespoon Brandy
1 teaspoon Vanilla Extract
1 cup Dulce de Leche
Powder Sugar, for dusting over cookies
Instructions
Mix the dry ingredients (cornstarch, flour, baking powder, baking soda, and salt) together and set aside.
In a mixer bowl, beat softened butter and sugar until fluffy and creamy.
Add egg yolks, mix until all is incorporated.
Add vanilla extract, brandy and mix well. Set aside.
At this point, add the dry ingredients into the butter mixture and work together until all is combined and the dough is soft.
Cover and chill the dough for 2 hours.
After the time has passed go ahead and heat the oven to 325 degrees. Line baking sheets with parchment paper and set aside.
Divide dough into half. Keep one refrigerated while you work with the other half.
On a floured work surface, roll out dough to a thickness of 1/4 inch. Cut inot 2 inch rounds and transfer to prepared baking sheets.
Repeat rolling/cutting with 2nd half of chilled dough.
Bake for 12 to 15 minutes or until done. The cookies should be dry but not brown.
When cookies are cool, match them up into pairs with those of similar size or shape, (when transferring the cookies they may move a little and it's shape may shift/change).
Turn one cookie over and spread a dollop of dulce de leche onto the flat part of the cookie. Place the other on top (flat side down) and gently press so that the caramel comes to the edges. Place on the rack and continue with the rest of the cookie pairs.
When ready to serve, sift a light layer of powdered sugar over the tops of the cookies and place them on a serving platter.
Enjoy!
Nutrition Information:
Yield: 20 Serving Size: 1
Amount Per Serving: Calories: 163Total Fat: 7gSaturated Fat: 4gTrans Fat: 0gUnsaturated Fat: 3gCholesterol: 44mgSodium: 115mgCarbohydrates: 22gFiber: 0gSugar: 12gProtein: 2g

Once you are ready to serve, sift a light coating of powdered sugar over the top of the cookies and place in a serving dish.
Round cookies are the typical shape used for these alfajores cookies, but you can make them in different sizes. Try making the alfajores using other shapes. There is no set rule anywhere on how alfajores cookies are shaped. Have fun in the kitchen. Bake a batch or two and share it with your family. Everyone will love having these delicious cookies in their hands. It's one of our family's favorite desserts to snack on.
Another family recipe we prepare at home to enjoy as a dessert or snack-on are churros. Churros are one of those extremely easy recipes to prepare and you can add colors or flavors to the batter and to the sugar mixture. Like the following recipe for Chocolate Churros – inspired by my love for chocolate.
Below is the recipe for the best Chocolate Churros of all time. You will love its smell and taste and believe me when I say, this will become your favorite churros!
Recipe #3 Chocolate Churros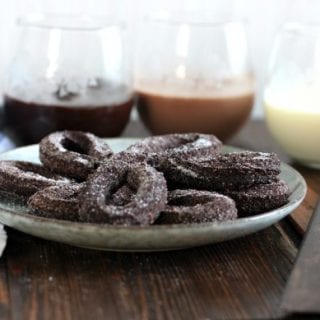 The Best Chocolate Churros
Yield: 10

Prep Time: 20 minutes

Cook Time: 30 minutes

Total Time: 50 minutes

Transform the traditional churros recipe into a very exciting one by making the best chocolate churros ever! Take dessert to the next level! #SummerDessertWeek
Ingredients
1/2 cup Sugar, Dixie Crystals
2 tablespoons Unsweetened Cocoa Powder
1 teaspoon Ground Cinnamon
1/4 cup Unsweetened Cocoa Powder
3/4 cups All Purpose Flour
1 cup Water
1 1/2 cups Sugar, Dixie Crystals
1/2 teaspoon Salt
2 tablespoons Vegetable Oil
1/2 teaspoon Vanilla Extract, Adam's Extract
2 quarts Vegetable Oil, for frying the chocolate churros in
For chocolate sauces
3 1/2 ounces Milk Chocolate, for the sauce (optional)
3 1/2 ounces White Chocolate, for the sauce (optional)
3 1/2 ounces Dark Chocolate, for the sauce (optional)
1 1/2 cups Heavy Cream, divided to make three sauces (optional)
Instructions
Combine 1/2 cup sugar with 2 tablespoons of unsweetened cocoa powder and 1 teaspoon ground cinnamon and set aside.
Next, mix the all purpose flour and unsweetened cocoa powder until well combined and set aside.
In a small saucepan over medium heat, whisk together the water, sugar, salt and vegetable oil. Bring the mixture to a boil then remove it from the heat. Stir in the flour mixture, mixing until it forms a ball. Let it cool a bit before working with it.
Heat 3 to 4 inches of vegetable oil in a large, heavy-bottomed pot set over medium-high heat until it reaches 375 degrees.
Using a pastry bag and a large star pastry tip start pipping the chocolate churros to your liking. They can be straight sticks, round shapes or any other shape you like. Tip: Maybe hearts for Valentine's Day! Yes, I know, it's all in the imagination. Go for it!
Another tip: I pipped the chocolate churros onto a large plate and transferred them into the oil to fry on small batches. This process made it more comfortable and easy to work with.
Cook for 3 minutes turning after 1 minute. Remove from oil with slotted spoon: drain on paper towels.
Add warm churros to sugar mixture you have set aside. Toss to coat evenly.
Make the chocolate sauces
Warm the heavy cream in a small saucepan, do not let it bowl. Pour the heavy cream over the chopped chocolate of choice. Let it sit for 1 minute then stir to combine.
Dip each chocolate churro into the chocolate sauce of your choice and enjoy!
We love to unite the family during any season of the year. Children love to run around the house and adults love to gather, talk and eat together as a family. This is why making easy snacks is a must for me. Taking these 3 desserts inspired by family recipes is my first choice when I am getting ready to entertain; whether it be family or friends.
Look for those desserts inspired by family recipes and prepare them as they appear in the recipe, then prepare them giving it a personal touch by changing one spice or flavor for another, or adding nuts, or other types of chocolates if the recipe warrants it. This reminds me of this recipe for Café con Leche French Toast, which we love so much. It is one of those recipes that we prepare for breakfast, or dessert with a cup of coffee. Let your imagination inspire what you will be preparing for dessert and it is sure to be delicious.
Remember to grab this post for 3 desserts inspired by family recipes in Spanish here and tell us, what is your go-to dessert recipe and did you give it a twist of your own or kept it in it's original form?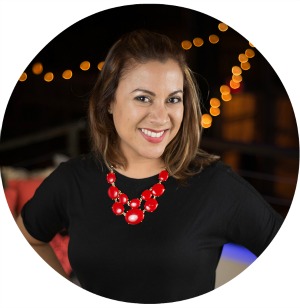 Hi there! I'm Wanda – the creator and author at My Sweet Zepol a healthy food, travel, and lifestyle blog. Passionate about food photography, food styling, entertaining and advocate about creating memories around the kitchen table. With a mission to create easy-to-make meals for the busy family.