Tres Leches is my husband's favorite cake. When I started baking more passionately and more often (about 8 years ago), tres leches was one of the desserts I made over and over again. My husband kept on insisting that it needed something…you know that something you can't really put into words but if you taste it you know exactly what that something is. Right. That something took many, many tres leches tries. That is how my Coconut Tres Leches Cake recipe was born.
You want in a little secret? I was not fond of tres leches cakes. The tastes was a little boring to me. That's when I tried changing the milks around. I use coconut milk. Not uncommon for a Caribbean girl like me have coconut milk lying around, specially after making some Piña Colada every other day.
Coconut Tres Leches
Yield: 24

Prep Time: 10 minutes

Cook Time: 20 minutes

Additional Time: 5 minutes

Total Time: 35 minutes

Coconut Tres Leches Cake is a Caribbean twist from the traditional Tres Leches Cake.
Ingredients
1 cup All Purpose Flour
1 1/2 teaspoon Baking Powder
1/4 teaspoon Salt
5 large Eggs (divided)
1 cup Sugar (divided)
1 teaspoon Almond Extract
1 can Coconut Milk , (divided)
1 can Evaporated Milk
1 can Sweetened, Condensed Milk
Remaining of the Coconut Milk 
2 cups Heavy Cream
3 tablespoons of Powder Sugar
1 teaspoon Vanilla Extract
Coconut Flakes (to garnish, optional)
Instructions
1. Preheat oven to 350 degrees.
2. Spray with cooking spray a 9x13 in pan and set aside.
3. Combine flour, baking powder and salt in a bowl, give it a mix and set aside.
4. Separate the eggs. Dropping the egg whites in a mixer and the egg yolks in a large bowl.
5. Beat the egg yolks with a 3/4 cup of sugar until it turns a pale yellow.
6. Stir in 1/3 cup coconut milk and almond extract.
7. Beat the egg whites on high speed until soft peaks form. Slowly pour the remaining 1/4 cup of 8. sugar and beat until egg whites are stiff but not dry.
8. Add the flour mixture to the egg yolk mixture and mix until well combined.
9. The next step is to carefully fold the egg whites into the cake batter.
10. Pour over the prepared pan and bake for 15-20 minutes or until after pocking with a toothpick it comes out clean.
11. Mix the milks together in a bowl or pitcher.
12. Pierce the cake gently with a skewer wooden stick or a fork several times.
13. Slowly drizzle all the milk over the cake, making sure that every bit had its share of milk. Let it rest and cool off completely.
14. Transfer to the refrigerator and cool.
15. In the mean time make the whipped cream.
16. In a mixer beat the heavy cream and powder sugar until thick and spreadable. Add some flavor to the cream with the vanilla extract.
17. Spread over the surface of the cake.
18. Toast the coconut flakes on a skillet and top the entire cake. This makes the cake extra pretty and gives it an additional coconut taste.
Nutrition Information:
Yield: 24 Serving Size: 1
Amount Per Serving: Calories: 234Total Fat: 16gSaturated Fat: 12gTrans Fat: 0gUnsaturated Fat: 4gCholesterol: 66mgSodium: 105mgCarbohydrates: 20gFiber: 0gSugar: 14gProtein: 4g
When I finally had a recipe that he loved we started treating our family and friends with it. During any event or potluck I was asked for the dessert, guess what the request was? Coconut Tres Leches cakes or cupcakes. You read right, I make them into cupcakes too. In fact that is how I started experimenting with the tres leches, I made them into cupcakes. I have old pictures, here… I'll show you. Note: For the cupcakes I make a meringue frosting instead of topping them with whipped cream. The taste is amazing and perfect for cupcakes, but too much for the cake version.
One time when I made my Coconut Tres Leches Cake was to take to my friend's house (Katie, from Katie's Cucina) a couple of months ago for a Food Bloggers Holiday Potluck where I got together with Marvin, Natasha, Julius, Julie, Suzanne and Ricky. Everyone brought a dish and we all had an amazing time! Food always tastes better when the company is amazing!
(Photo credits to Julius)
Note: My husband (Mr. L), Marvin, Julius and Julie were some of the people that convinced me to post this recipe. I couldn't keep it a secret any longer.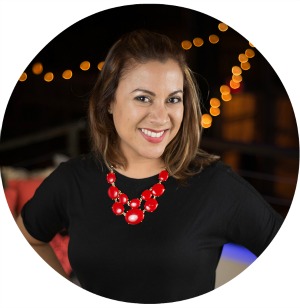 Hi there! I'm Wanda – the creator and author at My Sweet Zepol a healthy food, travel, and lifestyle blog. Passionate about food photography, food styling, entertaining and advocate about creating memories around the kitchen table. With a mission to create easy-to-make meals for the busy family.