Easter Day is one of those days of the year that brings back many memories of my childhood. We spent it among the family cooking, eating, playing and delighted with the Easter baskets that are distributed to the children of the family. You probably have similar memories – receiving Easter baskets full of candy and toys and sharing as a family. Food has always had an important place in our home. Here we share 3 appetizer recipes for Easter brunch. These recipes are easy to make and can also be recreated for the rest of the year.
Some of my memories takes me back to when we were getting ready to go to church; which was a couple of blocks from the house. We usually walked to church and stopped at the grocery store on the corner to bye some last minute orders on our way back home. My aunt and my cousins ​​spent every Easter Sunday with us – year after year. My aunt would help my mom cook while we played games, watched TV, and searched among the sweets in our Easter baskets.
Those memories as so fond to my heart. They bring so much warmth and joy. I can't but stop and enjoy this season with my growing family and make memories with them. Memories they will also cherish for years to come.
These appetizer recipes for Easter brunch will have your family and friends wanting more. They are the perfect combination of flavors and they work wonders. To grab this recipes and post in Spanish please visit this link.
3 Recipes of Appetizers for Easter Day
Recipe # 1 Strawberry Canapes with Brown Sugar and Balsamic
Balsamic & Brown Sugar Strawberry Canapés
Balsamic vinegar, tempered with brown sugar and reduced to a glaze makes a sweet, tangy topping. Top over fresh strawberries and basil to make an appetizer no one will be able to resist.
Ingredients
1 cup Balsamic Vinegar
1/2 cup Brown Sugar
Pinch of Salt
24 pre-cut package Puff Pastry
Fresh Strawberries
Bri Cheese
Fresh Basil
Instructions
To make the balsamic glaze, pour the balsamic vinegar, brown sugar and salt into a small saucepan set over medium heat for 7 to 10 minutes or until it has reduced by about half.
Pour into a mason jar and set aside. You will notice that the balsamic glaze has thickened even more.
Heat the oven to 400 degrees.
Place the pre-cut pieces of puff pastry in a baking sheet prepped with parchment paper, 12 pieces at a time.
The puff pastry pieces comes with holes already, but make extra with a fork.
Top each pastry with a small amount of the Bri cheese.
Bake for 14 minutes, rotating the pan after 7 minutes, or until pastry is light golden brown.
Remove from the oven. Let it cool completely.
Slice fresh strawberries and top each piece of pastry with about 2 slices of strawberries.
Garnish with fresh basil leaves.
Drizzle the balsamic glaze over each puff pastry.
Enjoy!
Nutrition Information:
Yield: 24 Serving Size: 1
Amount Per Serving: Calories: 36Total Fat: 1gSaturated Fat: 0gTrans Fat: 0gUnsaturated Fat: 1gCholesterol: 1mgSodium: 20mgCarbohydrates: 6gFiber: 0gSugar: 5gProtein: 0g

Recipe # 2 Avocado Toast with Pico de Gallo

Salsa Avocado Toast
Yield: 2 servings

Prep Time: 10 minutes

Total Time: 10 minutes

Avocado toast makes a great breakfast or snack, especially when you're short on time. Top with a fun salsa, scrambled eggs or fresh tomato slices for a new spin.
Ingredients
1/2 Yellow Bell Pepper, diced
1/2 small Tomato, diced
1/4 small Red Onion, diced
1 Lime, juiced
2 slices Whole Wheat Bread
1/2 cup Good Foods® Guacamole
Instructions
Mix pepper, tomato, onion and lime juice in small bowl. Season with salt and pepper, to taste.
Toast bread. Top with guacamole and salsa.
Double or triple the recipe as needed.
Enjoy!
Recipe # 3 Roasted Red Pepper, Ham and Cheese Mix (Sandwich Mix)
Pimento & Roasted Red Peppers Cheese Spread
Yield: 4 cups

Prep Time: 10 minutes

Additional Time: 5 minutes

Total Time: 15 minutes

Pimento and Roasted Red Peppers Cheese Spread is best on appetizers, snacks or treats - anytime of the year. Spread over cracker, slices of bread or veggies!
Ingredients
1 (12oz.) Ham packed can (I use Spam® with Bacon)
10 oz. Cheese dip (I use Kraft® Cheez Whiz)
10 oz. Roasted Red Peppers
Instructions
1. In a food processor add a small amount of the ham with bacon, cheese and roasted red peppers.


2. Process until smooth then transfer to a bowl.


3. Repeat until there is no more ingredients.


(I have a small food processor and repeat about three times, but if your food processor is bigger you may be done in one or two times).


4. Transfer mixture to an air tight container.


5. Enjoy right away or store it in the refrigerator.
Notes
If you have a large food processor you can add all the ingredients and give it a go all at the same time.
Nutrition Information:
Yield: 4 cups Serving Size: 1
Amount Per Serving: Calories: 174Total Fat: 13gSaturated Fat: 5gTrans Fat: 0gUnsaturated Fat: 7gCholesterol: 23mgSodium: 653mgCarbohydrates: 10gFiber: 1gSugar: 3gProtein: 6g

When mixing the ingredients in the food processor do not overwork it. Personally, I like the mix with a bit of texture, not too smooth. If you like it milder, my suggestion is to add more cheese (dip). I love the flavor and color that the roasted red bell peppers add to this recipe. I hope you enjoy this recipe as much as I and my family do!
Creating a combination of appetizer recipes has been a lifesaver for me. Especially during special dates like Easter. A day in which family and friends get together to share a delicious brunch, lunch or dinner. A day in which the children play and enjoy their baskets full of sweets and games.
Appetizer recipes are best, especially when using fresh, seasonal ingredients. Prepare some appetizers, choose the ones you enjoy the most and try some seasonal fruits. One of my favorite fresh fruit brunch recipes, especially for Easter, is this Mojito and Fruit Salad.
I recommend that you look for decorative containers and plates to serve food. Your Easter decor will stand out even more when you present your brunch items on plates with specific details for this holiday. The same advice applies to any holiday of the year.
Remember to grab this recipe in Spanish here if you wish to. Do share with me what are your most memorable Easter childhood memories in the comment section below.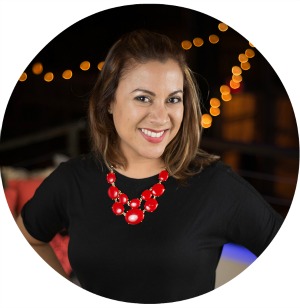 Hi there! I'm Wanda – the creator and author at My Sweet Zepol a healthy food, travel, and lifestyle blog. Passionate about food photography, food styling, entertaining and advocate about creating memories around the kitchen table. With a mission to create easy-to-make meals for the busy family.