Year after year I make cookies for my family and some of my friends. One of the cookies they all look forward to is the Almond Snow Cookies. I only bake them for the holidays. Maybe that is the secret of there yearly success.
I spent my last teenage years in Puerto Rico and the bakeries sells them by the name of "Polvorón", which it can translate to "crumble", that may be the perfect description for this cookies. They crumble in you mouth and that is why I love making them in a bite size. They are typically found in bakeries in a larger size with and without powder sugar. I believe that the powder sugar takes them an extra mile. They are way addictive.
When I was thinking about which cookie to bake for The Great Food Blogger Cookie Swap 2013, this cookie came to mind. It's an easy recipe to follow, 6 simple ingredients and a bite size cookie that crumbles in your mouth. This Almond Snow Cookie is one that I share with my friends and I wanted to extend that same feeling and love to my three food blogger matches. I'm also extending that same love to you too, here is the recipe. Enjoy and Share!
Almond Snow Cookies
Ingredients
4 sticks of Margarine (1 pound)
1 cup Sugar
3 teaspoons Almond Extract
1 cup Blanched Sliced Almonds
4 cups All Purpose Flour
1 cup Powder Sugar
Directions
Preheat oven at 250 degrees.
Combine margarine and sugar until smooth and creamy.
Add almond extract and blanched sliced almonds.
Fold in the flour. The cookie dough should be dense enough to handle with your hands.
Using a tablespoon make balls, use your hands to flatten them just a bit.
Place on a cookie sheet leaving about 1 inch of space between them for spreading while baking.
Bake for 45-50 minutes.
Let cool completely on a wire rack.
Once cool, dipped them into the powder sugar and coat. Transfer back to the wire rack until your done.
They keep well on a plastic container for up to two weeks, but trust me, they won't last that long.
Tip: If you want to make sure they are baked lift one cookie up and look at the bottom, it should have a light golden color.
I want to say "thank you" to Julie and Lindsay for organizing this cookie swap year after year and taking from their time to make sure we connect with other food bloggers from many different states that we haven't even met before. Relationships are very important and what way better to make a friend than with cookies. Thank you for all your hard work and passion, it shows in everything you both do.
Another big shout out goes to the amazing brands; OXO, Gold Medal Flour, Dixie Crystals, and Grandma's Molasses, that said present and joined forces with The Great Food Bloggers Cookie Swap to donate to a beautiful cause, Cookies for Kid's Cancer, (a pediatric cancer foundation). Thank you!
(Picture from Instagram @mysweetzepol)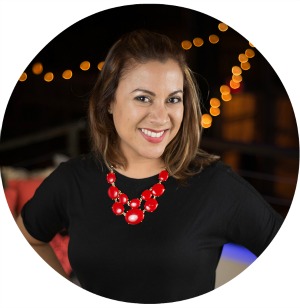 Hi there! I'm Wanda – the creator and author at My Sweet Zepol a healthy food, travel, and lifestyle blog. Passionate about food photography, food styling, entertaining and advocate about creating memories around the kitchen table. With a mission to create easy-to-make meals for the busy family.