This shop has been compensated by Collective Bias, Inc. and its advertiser. All opinions are mine alone. #TFMEasterBasket #TheFreshMarket.This content is intended for readers who are 21 and over.
Every year for Easter Sunday my mom and aunt would get together after church and cook a very delicious meal while the men played Domino and the kids colored, played or watched TV (or all of the above). We had such a great time that everyone looked for Easter Sunday year after year. There's nothing like growing up with family. Now, our story is a little different. We live far from family and don't have my mom around to spend the day with. I miss that and so does she. That's why we always make a meal and gather with friends we have made over the years.
During my weekly run to The Fresh Market I can always count on finding the most amazing ingredients to make a meal worthy of Easter Sunday. Like a delicious balsamic glazed lamb rack in a bed of boniato mash. Boniato is a sweet potato that is white instead of the traditional sweet potato or yam. My meals always include vegetables and this one is no exception. I grilled some carrots, asparagus tips, and brussels sprouts (whole and halves). The Fresh Market reminds me of my parents. They both loved growing produce and sell to our local market. Fresh produce, good food and amazing service. The Fresh Market has it all. From seasonally fresh produce to exceptional meat and seafood, signature baked goods and carefully curated organics, all the foods you love are waiting for you at The Fresh Market.
Balsamic Glaze Lamb with Boniato
Balsamic Glazed Lamb with a deliciously sweet Boniato mash, grilled vegetables and a beautiful table setting with edible grass, jelly beans, Lyndt chocolate bunnies, fresh Tulip flowers and amazing people around it. It's entertaining to it's finest. Make memories around the kitchen table.
Ingredients
8 Lamb Chops, Rack of Lamb from The Fresh Market
2 teaspoon Thyme, dried
1 teaspoon Crushed Red Pepper, dried
Salt and Black Pepper, to taste
4-6 cloves garlic, minced
4 tablespoons olive oil
1 pound Boniato, white sweet potato (yam or potatoes can be used instead)
8-10 sticks Carrots, fresh
1/2 pound Asparagus Tips, fresh
1/2 pound Brussel Sprouts, fresh, cut some in half and leave others whole
Fresh Thyme, for decoration, optional
Balsamic Glaze
1/2 cup Balsamic Vinegar
3 tablespoons Brown Sugar
1/2 teaspoon Coarse Salt, or Sea Salt
1/4 teaspoon Black Pepper, freshly ground
Instructions
Season the rack of lamb or lamb chops with garlic, salt, pepper, thyme and crushed red pepper. Set aside 30 minutes to 2 hours.
In the meantime start roasting the vegetables.
Heat oven to 400 degrees.
Toss carrots, asparagus tips, brussels sprouts (whole and halves) with a tablespoon of olive oil. Sprinkle some salt and pepper.
Bake for 20 minutes tossing half way through.
While the veggies roast, lets get the glaze going.
In a medium saucepan, pour in the vinegar, salt, pepper, and brown sugar.
Bring to a boil, then reduce the heat to medium. Simmer until the vinegar has reduced by one third to half and is thick enough to coat the back of a spoon. Tip: Watch closely. If the vinegar and sugar cook too long it will caramelize and become solid.
Remove from the heat and pour in a small bowl. Let it cool. Tip: It can be store in the fridge for up to a month.
Once the vegetables are roasted, remove from the oven and set aside.
Now, for the lamb chops. Heat a skillet with a medium to high heat.
We'll be cooking the lamb chops on batches, so divide the remaining olive oil.
Pour about a tablespoon of olive oil in the skillet and once it's hot place 2 to 3 lamb chops at a time.
Cook for 3 minutes on each side for medium rare. For medium well, cook for an additional minute. Place on a plate and cover with a lid while you continue cooking.
Repeat until all the lamb chops are cooked.
Please the boniato, cut into small to medium size chunks, toss in a sauce pan and cover with water. Cook at medium heat. The boniato is cooked just like you would a regular potato or yam.
Once it's cooked, remove from the water and mashed to the consistency of your choice.
Add salt and pepper to taste. Tip: You can add anything you like, just like you would to a regular potato or yam.
Place a mount of boniato on the center of a plate. Top with two lamb chops, drizzle some balsamic glaze over and dress with a spring of thyme.
Serve with the roasted vegetables. Enjoy with a nice glass of wine (or tea).
Happy meal!
This Easter, fill your basket with fresh produce, premium meat and seafood, specialty candy and bountiful blooms from The Fresh Market. They have curated an outstanding selection of delightful treats for your family, making it easy to celebrate the season. Easter Meal Kits are available for orders until 2 PM March the 27th. The kits can be picked up in-store from March 29th to Sunday, April 1st before 1 PM on April 1st. They retail for $59.99 and feeds 8 to 10 people. Order yours here. I'm loving this idea! It eliminates so much stress from having to plan an entire meal for a dinner party or just for a family gathering.
Did you know that the French Cut Rack of Lamb is available seasoned or unseasoned? Plus, it's free-range lambs, with no antibiotics or hormones and feed with 100% vegetarian diet? There's no excuse to go and grab a rack of lamb at The Fresh Market. They even cut it for you. They did for me and I loved it.
Easter is a very special day for us and we always spend it together as a family. I have many fond memories of us making popcorn from scratch, watching cartoons and playing around the house while the grown ups cooked and chatted in the kitchen.We have decorated our table with edible grass and jelly beans with some of the most amazing chocolate Lindt Easter Bunnies and a fragrant bouquet of Tulips. It's always a good idea to have fresh flowers around the house and on the kitchen table.
We ended our night with a platter of specialty cheeses from the deli section of The Fresh Market. At that time of the day everyone was craving coffee, so that's what we served. But, we usually enjoy our cheese platters with a glass of good wine. No matter how you enjoy your time with friends, the memories made around the kitchen table are always priceless and never forgotten. How do you spend your Easter Sunday? And, tell me, what is your meal during this special time of the year?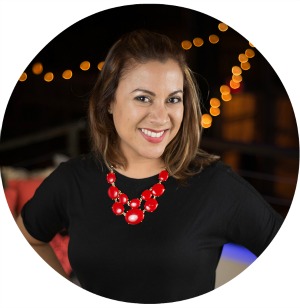 Hi there! I'm Wanda – the creator and author at My Sweet Zepol a healthy food, travel, and lifestyle blog. Passionate about food photography, food styling, entertaining and advocate about creating memories around the kitchen table. With a mission to create easy-to-make meals for the busy family.