Barnie's CoffeeKitchen in Winter Park got a group of Central Florida Food Bloggers together for one night to taste their new menu, drink their carefully selected coffee and talk food all night long. It was a special event; Thank you Barnie's CoffeeKitchen for being wonderful hosts and serving with such love and passion!
Barnie's Coffee shop has been serving coffee to Orlando for over 30 years. They are proud to be Florida's original coffee company. They roast small batches of coffee in the stores and share the experience with the customers that go in. The coffee is available on a brewed to order basis daily, no old coffee here!
Barnie's Coffee can also be found in over 1500 Florida grocery stores and throughout the country. You can also purchase at other food service establishments and their website.
We enjoyed the company of Jonathan Smiga, President and CEO of Barnie's CoffeeKitchen; that gave us some insight of their transition from Barnie's Coffee and Tea to Barnie's CoffeeKitchen. Barnie's CoffeeKitchen is based on real products made
by passionate experts, sourced from local farms and artisan suppliers. You'll agree when you taste the final product; it speaks for itself. If you wish to learn more about the Farm to Table concept, the menu and the local farmers that supply to them, please visit their site, Barnie's CoffeeKitchen.
(Turkish Coffee)  

We also had the pleasure of meeting Barnie's CoffeeKithchen's Executive Chef, Camilo Velasco. He shared with great passion every detail of each dish presented to us all throughout the night. One of the great things you'll find in Barnie's CoffeeKitchen is a true passion of coffee, attention to details and an atmosphere of welcoming. It feels like home. My kitchen is the center of our home, everyone gathers around the kitchen table or island and we eat, drink and share our day. That is what Barnie's CoffeeKitchen is all about, a familiar feeling. A place where you want to go in, eat, drink, share memories with loved ones and stay for a while.

Some of the menu items you will enjoy are:
(Ginger Ruby Red and Spiced Apple Royale)    
(Scallop & Blood Orange)

Seared scallop with yuzu braised fennel, watercress, blood orange and pistachio.
(Wild Mushrooms Tart)

Hen-of-the-woods mushrooms in a rich truffle scented custard, baked in a flaky crust.

 
(Tuna Carpaccio)

Sliced fennel, arugula, radish and black olives.

 
(Harvest Moon Roasted Vegetables)

 Roasted baby carrots, caramelized sunchokes, watermelon radish, mushrooms and potato. Finished with a warm sunchoke cream.
(Buttermilk Poached Chicken Breast)

With a saffron farro "risotto", sauce romesco and charred green tomatoes.

 
(Herb Crusted Lamb Loin)

 Seared lamb loin with a cassoulet of beans, heirloom carrots and preserved lemon.

 
(Coffee Berry Sparkling Cocktail)   
(Assorted of Sugar Cookie, Macarons and Biscotti)

House made pistachio macarons, sugar cookies & biscottis with hints of star anise.

It was a very fun night full of exquisite coffee, refreshing drinks, fresh food and wonderful company.
I reconnected with food bloggers that I had not seen in a while; like this sweet lady, Adriana from Adriana's Best Recipes, I had not seen her in a while and it felt good chatting with her again. I enjoy our food blogger community, they are a bunch of fun people with a common passion: FOOD!
Our table even had a fun Goggle+ hangout, it was hilarious. Chef Dennis from A Culinary Journey with Chef Dennis (Ask Chef Dennis), Robin from Simply Southern Baking, Adriana and me!
I wish to thank Barnie's CoffeeKitchen (the entire staff), Julie and Sunshine for hosting this event and making all the arrangements for us to get together and enjoy a special night. Thank you all!
Disclosure: The event was hosted by Barnie's CoffeeKitchen, food and drinks was provided to all the attendees. Pictures were taken with an iPhone5 and opinions are all mine.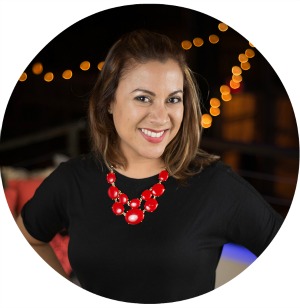 Hi there! I'm Wanda – the creator and author at My Sweet Zepol a healthy food, travel, and lifestyle blog. Passionate about food photography, food styling, entertaining and advocate about creating memories around the kitchen table. With a mission to create easy-to-make meals for the busy family.