Here's a through back Thursday dessert for you. Back in 2012 I shared a delicious Lemon Cream Tart Recipe with Fresh Strawberries and Blueberries and just recently noticed I had not added the recipe. Well, here it is! This tangy and refreshing tart is one of my daughters most asked desserts. It's super easy to make too.
Berries Lemon Cream Tart
The lemon cream is light and tangy. The berries are bight and sweet. Everything in this tart brings a big smile in my face. It's the perfect combination for a refreshing ending after any meal or just because you want to treat yourself after a long day.
Ingredients
Pie/Tart Crust (dough) 
1 cup Heavy Cream 
1 cup Lemon Curd 
2 pints Fresh Berries
Instructions
On a lightly surface, roll out the dough to an 11 inch round. Fit the dough into a 9-91/2 inch fluted tart pan with removable bottom
Press the dough into the edges of the pan.
Trim the edges along the top.
Pick the bottom all over with a fork, put the entire pan in the freezer for about 10 minutes, until it firms a bit.

Preheat oven to 350 degrees.
Fill in your pie crust with pie weights or dried bean. Bake for 15-20 minutes or until the edges of the crust are just beginning to turn golden.
Remove the pie weights. Return the crust to the oven and continue baking for another 15 minutes or until golden all over.
Remove and let cool.

In a medium bowl or mixer whip the heavy cream until it becomes thick enough to hold a peak.
Fold about half into the lemon curd. Gently fold in. Add the rest and continue combining both the whipped cream and lemon curd.
Pour the now lightened lemon curd into the tart shell and spread evenly.

Arrange the berries close together over the lemon curd. I did it in a circular motion, you can create any design you like best.
Lightly cover the tart with plastic wrap and chill it in the refrigerator for 1 to 4 hours (or overnight).
Remove the outer ring of the tart pan before serving.
Serve and enjoy!
Nutrition Information:
Yield: 8 Serving Size: 1
Amount Per Serving: Calories: 317Total Fat: 20gSaturated Fat: 12gTrans Fat: 1gUnsaturated Fat: 7gCholesterol: 80mgSodium: 113mgCarbohydrates: 35gFiber: 3gSugar: 25gProtein: 3g
The beauty about this lemon cream tart is that you can top it with your favorite fruit or fruits. Anything from strawberries, blueberries (like I did), to raspberries, blackberries or sweet mango. Mouth watering, right?
This tart is a great reminder that winter won't last forever. Spring and Summer are just around the corner and you with this refreshing berries lemon cream tart can start celebrating today.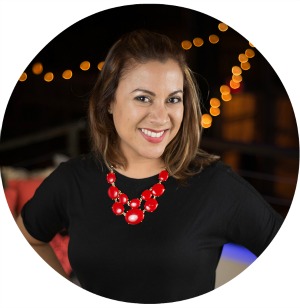 Hi there! I'm Wanda – the creator and author at My Sweet Zepol a healthy food, travel, and lifestyle blog. Passionate about food photography, food styling, entertaining and advocate about creating memories around the kitchen table. With a mission to create easy-to-make meals for the busy family.