This shop has been compensated by Collective Bias, Inc. and its advertiser. All opinions are mine alone. #SutterHomeForTheHolidays #CollectiveBias The following content is intended for readers who are 21 or older.
Sutter Home Family Vineyards is one of my favorite wine brands. In fact there's a wine I buy over and over for any occasion or none at all from their collection. It's the perfect wine to bring people together and make them feel at home. I just love the after taste of sweetness and fruitiness. What can I say, I am a dessert kinda girl. With so many different varietals, it truly offers something for everyone.
Something else that I love about Sutter Home Family Vineyards is that it's a family-owned company for three generations seeking to produce quality products that brings people together to share good times. And if there is something I am extremely passionate about is bringing people together into my kitchen table to share food and make long lasting memories. The conversations, the laughter and the joy that is spread among family and friends in a kitchen table is truly priceless.
Talking about food I made a recipe for you to enjoy during this holiday season. It's my favorite cobbler and I just can't have enough of it. I'm sure it will become your favorite too. My mom always grew fresh fruits in the backyard of our home in Puerto Rico and while living in Boston she, somehow,  managed to grow strawberries and other veggies. It's  no secret that I am always inspired by my mom's cooking and choices when it comes to seasonal ingredients. My secret for the perfect cobbler is infusing the berries with Sutter Home Sweet Red. A sweet, fruity and aromatic wine you will always want to have in hand. There's just something about this dish that brings joy to my heart and I just had to share it with you. Now, grab a glass of wine and join me in the kitchen. Let's start baking!
Berries, Walnut and Oats Crumble Cobbler
Comfort desert dish to its finest. Wine infused berries, walnuts and oats crumble cobbler ready to bring joy into your busy schedule. Gather some friends, take out the wine glasses, serve some cobbler and let the memories begin.
Ingredients
4 cups Mixed Berries, fresh or frozen (thawed)
1/3 cup Sutter Home Sweet Red wine
1 1/2 tablespoons Lemon Juice, fresh
1 tablespoon Vanilla Extract
2 tablespoons Cornstarch
Topping
2/3 cups Oats, quick-cooking
1/3 cup Walnuts, chopped
1/2 cup Sugar
2 tablespoons Canola Oil
1/2 teaspoon Ground Cinnamon
1/8 teaspoon Salt
Instructions
Heat oven to 350 degrees.
Meanwhile soak berries into the Sutter Home Sweet Red wine, set aside in the refrigerator for about 20 minutes.
While the berries get beautifully infused, grab a 2-quart casserole dish and stir together the lemon juice, vanilla extract and cornstarch until cornstarch is dissolved. Set aside.
Let's get the topping started.
Combine together the topping ingredients in a medium bowl until crumbled texture. Set aside.
Grab the infused berries and toss into the casserole dish and mix well with the cornstarch mixture.
Sprinkle topping evenly over the berries.
Bake, uncovered, for 30 minutes.

Note: If you are looking for a browner topping, after the cobbler is baked, change oven's setting to broiler and run under for about 2 minutes. Keep an eye on it and be careful not to burn it.

Serve with a nice scoop of vanilla ice cream or with yogurt. Enjoy, cheers!
Some nights during the month a handful of friends gather in my house for a friends night in. We enjoy appetizers, sweets, cheese platters and wine. Everyone brings in something and we share it while conversations, laughs … loud laughs and some Salsa dancing happens. If you walk into a Latino family home, you will for sure find a variety of food served for everyone to enjoy and hear music playing in the background of some chattering and laughter. My parents always welcomed people over for a meal and I took over that tradition. Having people over is something I truly enjoy. It's always fun to spend an afternoon at home with friends over good conversations across the kitchen table with a good glass of wine. Sutter Home Family Vineyards is always my choice of wine.
What is your go to food to enjoy with wine? I personally love a generous scoop of berries, walnut & 0ats crumble cobbler with vanilla ice cream, specially during the holiday season.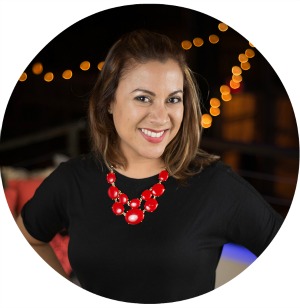 Hi there! I'm Wanda – the creator and author at My Sweet Zepol a healthy food, travel, and lifestyle blog. Passionate about food photography, food styling, entertaining and advocate about creating memories around the kitchen table. With a mission to create easy-to-make meals for the busy family.