About a year ago my husband brought home a blackened fish dish he was eating at a business dinner. The thoughts of  that dish stayed with me for a very long time. I wonder why I hadn't tried remaking it before.
With the idea of staying organized I am taking some time out of every Sunday afternoon to make a meal menu for the week. This week I remembered that fish dish and thought about it with some chicken breasts I already had in my fridge. Let me just say that the dish is absolutely divine and I want to share it with you all.
Blackened Chicken  Breasts
Ingredients
2 to 4 Skinless Boneless Chicken Breasts
2 tablespoons Soy Sauce (low sodium)
1 tablespoon Worcestershire Sauce
Olive Oil (to grease your grill pan)
1 Lime
Blackened Seasoning:
1 tablespoon Salt
2 teaspoons Paprika
2 teaspoons Onion Powder
2 teaspoons Garlic Powder
2 teaspoons Sugar
4 teaspoons Black Pepper
1/2  teaspoon Ground Oregano
Directions
If your chicken breasts are chunky cut them through the middle lengthwise. You'll end up with two half's of chicken breasts. The ones I buy are chunky or fat and if I want a thinner chicken breast I cut them in half right through the middle. You can also cover them with plastic wrap and pound them with a rolling pin or a mallet to about 1/2″ in thickness.
Marinate the chicken breasts with the soy sauce and worcestershire sauce for 30 minutes to an hour.
In the meantime prepare the blackened seasoning. Place all the dry ingredients in a deep dish where you can easily deep each chicken breast.
Pat dry each chicken breast and drizzle with some lime.
Add olive oil to your cast iron grill skillet and heat on medium high until skillet is sufficiently hot.
Deep each chicken breast in the blackened seasoning and cook for about two minutes, (remember your chicken breasts are thin not thick and this varies on cooking time).  Turn and cook on the other side for another minute or two.
Do not overcrowd the skillet, cook about two at a time.
Enjoy and share!
I hope you give this recipe a try. I paired it with loaded mashed potatoes and fresh seasoned broccoli. It was very easy to make and so good that I keep on going back for more. The next day I kept on thinking about this Blackened Chicken Breast and wanted to make it again. It's that good! Enjoy.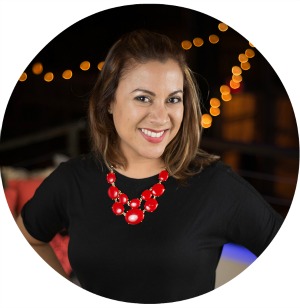 Hi there! I'm Wanda – the creator and author at My Sweet Zepol a healthy food, travel, and lifestyle blog. Passionate about food photography, food styling, entertaining and advocate about creating memories around the kitchen table. With a mission to create easy-to-make meals for the busy family.