I'm always looking for ways to cook the chicken so that my family doesn't get tired of it. This recipe that I wish to share with you is one of my favorites. It is adapted by a health book my husband had in his office. One of the reasons I love it so much is because it looks as if it took all day to prepare, but instead it took about 30-40 minutes. That makes me happy! Don't get me wrong, I love cooking, but I also love doing other things too and I just don't want to be all day around the stove cooking. Easy meals makes me happier.
Plus, if you are into counting calories, this recipe is about 340 calories. Nice right? This chicken goes well with a crisp salad, brown rice, pasta, mashed potatoes or roasted veggies/potatoes. Here's the recipe. I am hungry already.
Capri Chicken
Ingredients
1 cup Ricotta Cheese
1/2 teaspoon Oregano (dried)
1/4 teaspoon Salt
1/4 teaspoon Ground Pepper
4 Chicken Breast (boneless & halves)
1/2 teaspoon Garlic (minced or crushed)
2 tablespoon Olive Oil
1 cup Crushed Tomatoes
4 slices Mozzarella Cheese (fresh)
Directions
Combine the ricotta cheese with the salt, pepper and oregano. Set aside.
Heat the oil on a large skillet. Rub the chicken with the garlic and cook on the skillet for about 7-9 minutes on each side. Allow to cook before going on the next step.
Preheat the oven to 350 degrees.
Place chicken breasts on a baking dish. Spoon about 1/4 cup of the ricotta mixture on each piece of meat.
Repeat with the crushed tomatoes.
Finally. top with the mozzarella cheese slices.
Bake for 15-20 minutes.
Remember that the chicken has been pre cooked already. If the chicken overcooked it will taste dry inside and we don't want that.
Chicken is one of the meats we buy most  in our house. It is very versatile and I haven't met anyone that doesn't like a good piece of chicken. Chicken is a healthy meat choice, specially if you purchase one from an organic chicken raised brand. During my teenage years in Puerto Rico it was easy for us to find local farms that raised chickens and we could purchase from them (plus some eggs too). Which is your favorite local or store bought chicken brand?
Enjoy this easy Capri Chicken recipe and share with your loved ones.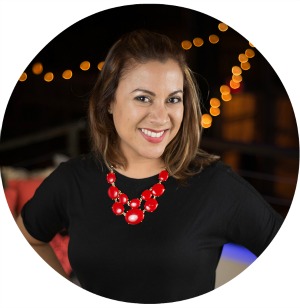 Hi there! I'm Wanda – the creator and author at My Sweet Zepol a healthy food, travel, and lifestyle blog. Passionate about food photography, food styling, entertaining and advocate about creating memories around the kitchen table. With a mission to create easy-to-make meals for the busy family.