When you have a family that wants to have different items in their pizza and don't mind having them all together, a meat lovers is the way to go. Each one of us in our family love a different kind of meat, one of my girls is all about cheese pizza. No matter what pizza I choose to make on any given night I always make an only cheese pizza for her to eat from.
Sausage, Bacon and Pepperoni Pizza (meat-lovers pizza)
(recipe by Wanda Lopez, My Sweet Zepol)
Ingredients
Pizza dough (recipe is enough for two 9″ pizzas)
2 teaspoons of Olive Oil
1 cup Sausage (cooked)
2/3 cup Bacon (cooked)
1/2 cup Pepperoni (slices)
1/2 cup Mozzarella Cheese
1/2 cup Cheddar Cheese
1 cup Marinara Sauce
Directions
Preheat the oven to 450 degrees.
Heat the oil in a skillet over medium heat. Cook in the sausage.
Remove from heat and cook the bacon (I crumbled it for this recipe, but you can slice it or have them in bigger pieces).
Having all your meats cooked go on and divide the pizza dough in half and spread in the baking pans of your choice.
Divide the sauce in half over both pizzas.
Spread over the meats and cheeses in equal parts.
Bake for about 12 to 16 minutes or until golden brown.
Remove from the oven, let cool for about 2-5 minutes.
Cut into desired slices. Serve and enjoy!
Tonight I decided to make a rectangular Sausage, Bacon and Pepperoni Pizza (meat lovers pizza), because we had company over and I wanted to make sure everyone had a nice bite of this meaty pizza.
Pizza night can't get any easier than tossing in the ingredients that your family loves the most over store bought (or homemade) pizza dough.
Tip: I love tossing some garlic powder over the edge of the pizza doughs before baking them. You may want to try this the next time are enjoying a pizza night at home.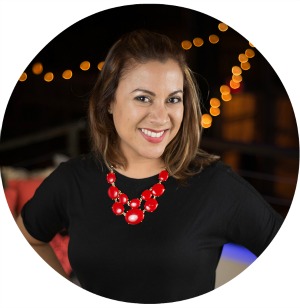 Hi there! I'm Wanda – the creator and author at My Sweet Zepol a healthy food, travel, and lifestyle blog. Passionate about food photography, food styling, entertaining and advocate about creating memories around the kitchen table. With a mission to create easy-to-make meals for the busy family.