It is not new news that I love chocolate. But, I'll let you in a little dark secret of mine… I'm not good at sharing chocolate, I tend to want to eat it all myself. But this time I can't wait to share this recipe with you all, it is that good!
I have made flan, which is a custard made with evaporated and condensed milk baked in a ramekin or pie dish. I have made them in many different flavors including chocolate. But, this dish has a unique ingredient. It is a panna cotta, an Italian dessert that resembles a custard and cooked with powdered gelatin which gives it body. Why have I not tried this before?, I don't know. But, I did and it's awesome and I am sharing with you. Win, win!
Chocolate and Cream Panna Cotta
Yield: 4 servings

Cook Time: 30 minutes

Additional Time: 3 hours 2 seconds

Total Time: 3 hours 30 minutes 2 seconds
Ingredients
Chocolate Panna Cotta
3/4 teaspoon Powdered Gelatin
2 tablespoons Cold Water
1/3 cup plus 2 tablespoons Heavy Cream
3 tablespoons Dixie Crystals Sugar
1/2 teaspoon Vanilla Extract
1/4 teaspoon Salt
3 ounces Cream Cheese, cubed and at room temperature
3 ounces Semi-Sweet Chocolate, melted
Whipped Cream
1 cup Heavy Cream
1 tablespoon Dixie Crystals Confectioner's Sugar
Shaved Chocolate to decorate (optional)
Instructions
In a medium bowl, whisk together the gelatin and cold water.


Melt the chocolate and set aside.


In a saucepan, bring the milk, cream, sugar, vanilla and salt to a boil.


Remove from the heat and whisk in about a third of the hot milk mixture into the gelatin mixture.


Then pour the gelatin mixture back into the remaining milk, whisk until well combined.


Whisk in the cream cheese one cube at a time.


Once all the cream cheese is dissolved, add in the melted chocolate.


Mix until well combined.


Strain through a fine-mesh sieve into a bowl. Divide it among the ramekins, glasses or cups of your choice.


Refrigerate until set, about 2-3 hours.


Serve topped with fresh heavy cream. Whip the heavy cream with the powder sugar on medium to high speed until firm, but not dry.


Shave some chocolate from a bar using a potato peeler and top to decorate (optional). You can also top with cocoa powder or fresh fruits.

Notes
Once set, the Panna Cotta can be kept in the refrigerator for up to 2 days, loosely covered with plastic wrap.
I am very excited to present this Chocolate and Cream Panna Cotta into a contest that is holding Dixie Crystals, one of Food and Wine Conference's platinum sponsors. The theme is chocolate desserts. Beyond awesome and exciting! Want to enter the conference too? The grand prize winner gets a free weekend ticket, as well as $500 gift card and the honor of being a featured conference dessert. You have until April 17th to enter, so hurry up and get in that kitchen! You got this!
I will be attending Food and Wine Conference this year for the first time and will be sharing with you more about it here. If you haven't attended yet or if you have and are planning on going back and haven't yet bought a ticket here is a discount code that will save you $50 off FWC15lopew. Come and join me at #FWCON!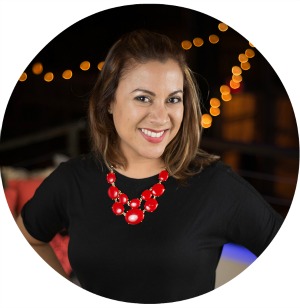 Hi there! I'm Wanda – the creator and author at My Sweet Zepol a healthy food, travel, and lifestyle blog. Passionate about food photography, food styling, entertaining and advocate about creating memories around the kitchen table. With a mission to create easy-to-make meals for the busy family.