After receiving an ice cream machine I started researching for recipes and flavor combinations. For me it was a  no-brainer to want to start this ice cream journey with a chocolate ice cream, since I absolutely love chocolate.
This chocolate ice cream is decadent, rich and creamy. It's comfort food for my soul.
Chocolate Ice Cream
Ingredients
2 cups Heavy Cream
3 tablespoons Unsweetened Cocoa Powder
5 ounces Semisweet Chocolate
1 cup Whole Milk
3/4 cup Sugar
Pinch of Salt
5 Large Egg Yolks
1/2 teaspoon Vanilla Extract
Directions
Warm 1 cup of the cream with the cocoa powder in a saucepan. Whisk thoroughly to blend the cocoa.
Bring to a boil, then reduce the heat and simmer at a very low heat for about 30 seconds (whisking constantly).
Remove from the heat and add the chocolate (I chopped them first). Stir until smooth.
Then add in the remaining cup of cream.
Pour the mixture into a large bowl and set aside.
In that same saucepan: warm the milk, sugar and salt.
In a separate bowl whisk the egg yolks.
Slowly pour some of the warm milk into the egg yolks (I used a ladle to ease the job). Whisk constantly to prevent from turning into scramble eggs.
Pour the egg yolks mixture into the saucepan.
Stir the mixture constantly over medium heat until the mixture thickens and coats the spatula, (if you happen to have a thermometer use it and it should read 170°F).
Make an ice bath using a larger size bowl than the one you have with your chocolate mixture and add some cold water and ice to it. Set aside for later use.
Pour the custard through the strainer and stir it into the chocolate mixture until smooth. Then add in the vanilla. Stir until cool over an ice bath.
Once the mixture has cooled a bit you can chill it more on the refrigerator for about 4 hours or 6 hours if you can wait that long, (over night is even better). If you don't want to wait that long it's totally acceptable, I understand completely!
When ready to make your ice cream use your maker according to the manufacturers instructions. You can eat it as a soft ice cream or chill it for about 2 hours in the freezer for a more chilled and bodied ice cream.
Disclosure: recipe adapted by Brown Eyed Baker.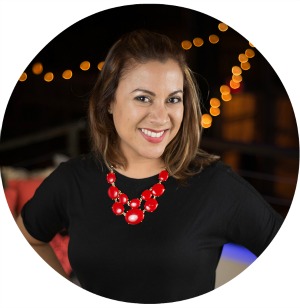 Hi there! I'm Wanda – the creator and author at My Sweet Zepol a healthy food, travel, and lifestyle blog. Passionate about food photography, food styling, entertaining and advocate about creating memories around the kitchen table. With a mission to create easy-to-make meals for the busy family.