This is a sponsored post for SheSpeaks/Kraft Heinz
Who doesn't love a delicious treat? We made the most delicious coffee cream cheese scones you have ever tasted, (or maybe this is the first time you hear about this amazing treat) and shared with our loved ones. Because that's what we do. Share food with those we care about! All we have to say is that you'll love this recipe and it's great to snack on. This post and recipe was sponsored for SheSpeaks/Kraft Heinz. As always opinions and images are 100% mine.
The holidays this year are going to be different than those of years past. Being close to family and friends in celebration and thanks has never been more important. Comfort and familiarity are going to be important to me during this year's celebrations. We all have been doing our part to stay safe and keep our loved ones safe as well. That's why I have recreated a family favorite recipe with some touches of comfort and joy close to our hearts.
I went down to our local Walmart and grabbed some staple items to share love to my sweet family. I grabbed Philadelphia® Original Cream Cheese, Cool Whip® Original Whipped Topping and Maxwell House® Original Roast Medium Ground Coffee. You won't believe the amount or recipes you can create with these three ingredients, that's why I always have them in my kitchen. Below is a super easy coffee cream cheese scones recipe that will have everyone at home waking up early to have some.
Coffee Cream Cheese Scones
Ingredients
For the Scones:
¼ cup granulated sugar
3 cups all-purpose flour
1 tablespoon baking powder
¾ teaspoon salt
4 ounces or ½ package (8 ounces) Philadelphia® Original Cream Cheese, cold and cut into pieces
6 tablespoons unsalted butter, cold and cut into pieces
2 large eggs, cold
⅓ cup whole milk, cold
1 tablespoon vanilla extract
For the Coffee Glaze
1 cup powdered sugar
1 teaspoon vanilla extract
3 tablespoons brewed Maxwell House® Original Roast Coffee, cooled
Ser with:
1 tablespoon Cool Whip® Original Whipped Topping, thawed
Maxwell House® Coffee
Instructions
1. Heat oven to 425°F.

2. Line large baking sheet with
parchment paper or silicone baking mat. Set aside.

3. In medium bowl, combine sugar,
flour, baking powder and salt. Whisk until combined. Set aside.

4. Place cold cream cheese, butter
and eggs in food processor fitted with metal blade and pulse to
combine, about 6 to 8 times. Scrape down bowl and add dry
ingredients, milk and vanilla extract. Pulse 3 more times and scrape
again. Pulse a few more times until dough comes together.

5. Remove dough from food
processor and place on a lightly floured surface. Smooth out dough.
Do not overwork it.

6. Divide dough into 2 equal
pieces. Form each piece into a 6-inch disc. Use a sharp knife to cut
the discs into triangles.

7. Place scones on prepared baking
sheet.

8. Bake for 15 minutes or until
scones rise up and become golden.

9. Remove scones from oven and
place on a wire cooling rack to cool completely.

10. While scones are cooling, make
the coffee glaze. Combine powdered sugar, vanilla extract and coffee
in a medium bowl. Whisk until smooth. Drizzle coffee glaze over
scones.

11. Serve each scone with a
spoonful of Cool Whip® Original Whipped Topping and a delicious cup of Maxwell House®
Coffee. Enjoy!
Nutrition Information:
Yield:

12
Serving Size:

1
Amount Per Serving:
Calories:

266
Total Fat:

9g
Saturated Fat:

5g
Trans Fat:

0g
Unsaturated Fat:

3g
Cholesterol:

57mg
Sodium:

279mg
Carbohydrates:

38g
Fiber:

1g
Sugar:

14g
Protein:

7g
Kraft Heinz® products can be a part of your dinner table whether it be a Friends-giving Event, a Christmas Celebration or as part of a comforting meal during the craziness of the holiday season. These coffee cream cheese scones can also be enjoyed as an afternoon pick-me-up while the family gathers to spread love during the holidays, decorate for the season, and trim the tree. Grab a cup of Maxwell House® Coffee, a coffee cream cheese scone, serve with a dollop of Cool Whip®, put on some holiday music and enjoy family time!
Our love for Maxwell House® Coffee was the inspiration for the icing topping each scone. You can't beat the smell of freshly brewed coffee. Imagine biting into a soft cream cheese scone and tasting that coffee icing; it's absolutely magical. Kraft Heinz® products are familiar tastes that can remind you of happier and simpler times around the table. Nothing brings us more joy than spending those special moments with the ones we love, especially during the holidays.
Enter the #ShareTheHolidaySweepstakes by clicking here for a chance to win daily prizes of $100 Walmart gift cards and a grand prize trip to visit loved ones (a $2,500 value). Plus as a special gift from Walmart, you'll be emailed a link to download a free digital cookbook of holiday favorites including this scrumptious Coffee Cream Cheese Scones recipe!
What's your favorite holiday treat to enjoy with your loved ones? Let me know in the comments below. And from our family to yours – we wish you a very special holiday season!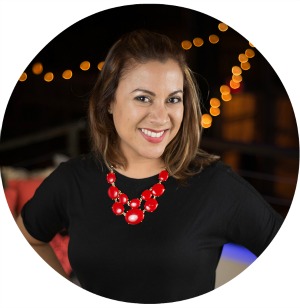 Hi there! I'm Wanda – the creator and author at My Sweet Zepol a healthy food, travel, and lifestyle blog. Passionate about food photography, food styling, entertaining and advocate about creating memories around the kitchen table. With a mission to create easy-to-make meals for the busy family.