This post was jointly sponsored by the Kansas Soybean Commission, Kansas Farm Bureau, and the Kansas Pork Association. Sharing all about cooking tips for teenagers and how to make the most of a cut of meat.
While my sister and I were growing up we were introduced to cooking simple dishes at a time until we felt comfortable in the kitchen. I remember it as something that just happened, not really paying much attention as to who taught us what or the way we were being taught. It wasn't until my kids became teenagers and I started planning on teaching them the basics of cooking that I started pondering about it all.
But, how to even get there? How could we find some useful cooking tips for teenagers? See where I'm going with this? You will now find those tips here, no more wondering around for answers. Lets get started.
Luckily I got to talk with Beth and Orrin Holle from Holle Gelbvieh Ranch in Kansas. They are a 5th generation farmers, their kids are the 6th generation. Taking care of about 400 head of cattle at a time. Farming is a 24/7 job and it takes the entire family working together. The Holle's have four kids of their own; two teens and two tweens.
Things you must know about farming and the Holle's
Their family has been in the ranching business for more than 100 years.
They take great pride in providing food for Kansas, the U.S. and most importantly they are consumers as well.
Care a great deal about the land and animals they oversee.
The Holle family raise Gelbvieh cattle since 2005 when we had the opportunity to purchase an entire herd from a local retiring rancher. Always learning as much as they can about this breed and the genetics available.
Gelbvieh cows are excellent mamas, producing large quantities of high fat and nutritious milk to keep calves healthy and strong.
Have come a long way introducing new technology into their traditional farming.
Technology makes farming more efficient, it also adds more capital on equipment.
The Holle Gelbvieh Ranch is ran by them, family of 6. During the year they count with the help of 1-2 farmers.
Every farmer I have the opportunity to meet in my career has something in common; they are also consumers of what they grow, care of and cultivate. One of their main goals in the ranch is to help their cattle's live a stress-free life, have the best feeding possible and be up to date with proper care – including vaccines.
While we talked about life at the ranch, crops, and cattle; we also talked about cooking tips for teenagers and tips on how to make the most of a cut of meat. Beth shared with me one their family's favorite recipes. One that their kids make themselves. It was such an honor to have been given this recipe they love, and now, so do we. Thank you Holle family!
Grab the recipe for BBQ Beef Croissant Cups. It's as delicious as it sounds. This recipe can be made using biscuits instead of croissants. Biscuits is the base choice for Beth and her family. We used croissant because 1. that's what we had in hand and 2. my kids love croissant more than biscuits when being filled with something. This is a wonderful savory croissant filling recipe, perfect for breakfast, brunch, lunch, dinner or even to snack right after school.
Tip from Beth: "So easy when you have the ingredients on hand and even faster if you are using already browned hamburger! You can also use the meat more sparingly and get more biscuits filled. "
Cooking tips for teenagers
Start with recipes with little amount of ingredients and steps to follow. Like cheese quesadillas, grilled cheese, or scramble eggs.
Give teenagers recipes that they will enjoy making themselves. Like tacos, pitas topped with prosciutto, arugula and Parmesan cheese.
Have some tools in hand to help make the process easier for teenagers to cook with. Like an air-fryer, or a Ninja Foodie, rice cooker, a small grill fit for the kitchen counter. We have a Jorge Foreman that we've owned for many years and works like a charm. Perfect for meat, and sandwiches.
Freeze shredded or ground beef meat for teenagers to cook with any given day. Make enough meat to have leftovers, that way teenagers or anyone else can create a new dish with it the following day. We love leftovers. It's a huge time savor.
Tips for getting the most out of a boneless roast
Slice for steaks.
Shred it for quesadilla, pittas or to toss on salads.
Roast it and enjoy with roasted vegetables like carrots, potatoes, broccoli, Brussels sprouts and/or green beans.
Cooked beef with noodles. Great for a pasta dish one night or a stir fry another night.
Beef tossed over nachos or french fries topped with shredded cheddar cheese, sour cream, guacamole and a pico de gallo. Sounds so good!
Ground meat for tacos, spaghetti, and/or hamburger helper meals.
We had a wonderful time talking about our kids, recipes we love, the best ways to use a cut of meat and how we have been teaching our teenagers to cook. Which is one of the best ways we can help teenagers become more independent and help at home.
Share with us, what are some of your cooking tips for teenagers and ways you utilize a cut of meat in your dishes? We want to know it all.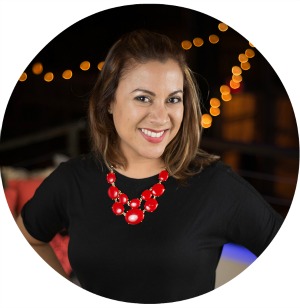 Hi there! I'm Wanda – the creator and author at My Sweet Zepol a healthy food, travel, and lifestyle blog. Passionate about food photography, food styling, entertaining and advocate about creating memories around the kitchen table. With a mission to create easy-to-make meals for the busy family.