For the past few years I have had the pleasure of meeting farmers in person, hearing their stories and seeing their passion for food, their farms, and family. I had the pleasure to video chat with a wonderful lady from Kansas named Beth. Beth and her husband Orrin are a 5th generation farmer at Holle Gelbvieh Ranch in Kansas. Beth and I talked about many things during our call, mostly about recipes and family. She shared a deliciously easy recipe that her kids help her make and we both thought it was a great addition to my recipe collection and yours too. So grab a pen and paper and jot down this mouth watery BBQ Beef Croissant Cups recipe that even kids can make. Win-Win!
BBQ Beef Croissant Cups recipe, easy enough for teenagers to make
BBQ Beef Croissant Cups
Yield: 16

Prep Time: 15 minutes

Cook Time: 12 minutes

Additional Time: 5 minutes

Total Time: 32 minutes

Juicy hamburger meat baked in a croissant cup topped with melted cheese, a dollop of sour cream and sprinkled with cilantro (this last step is optional).
Ingredients
1 lb Hamburger meat (ground beef)
2 tablespoons Taco Seasoning
1/2 cup BBQ Sauce (we used a sugar free BBQ sauce)
2 packages Croissant, 8 count each
Cheddar Cheese, shredded
Sour Cream (optional, a dollop for each cup)
Cilantro or Basil (optional)
Instructions
Heat the oven to 350 degrees.
Cook the hamburger meat, unless it's already cooked and left overs from a previous meal.
Season with taco seasoning, unless it's already cooked and seasoned from a previous day.
Once cooked, add in the BBQ sauce. Mix until well combined.
Open the croissant tubes.
In a greased muffin tin press the croissant in making the dough go up the sides to the edge of the tin.
Spoon in meat mixture.
Sprinkle with shredded cheddar cheese.
Bake according to the croissant instructions.
Notes
This recipe was adapted by Beth Holle. She makes her recipe using biscuits. I used croissants because 1. I had them at hand and 2. My kids love croissants more than biscuits.
During our conversation we talked about farming, family, cooking tips for teenagers, and how to get the most out of a cut of meat. Make sure you go and read through it, there are so many good tips! Now lets focus on this delicious BBQ beef croissant cups. So much easier to make when you have the ingredients on hand and even faster if you are using already browned hamburger meat. You can also use the meat more sparingly and get more filling per cup.
This recipe can be made using biscuits instead of croissants. Biscuits is the base choice for Beth and her family. We used croissant because 1. that's what I had in hand and 2. my kids love croissant more than biscuits when being filled with something. This is a wonderful savory croissant filling recipe, perfect for breakfast, brunch, lunch, dinner or even to snack right after school. It's one of those grab and go favorite recipes for Beth and her family, and now our family too!
When it comes to cooking we, moms, do most of it. If not all of it. I am teaching my kids to cook and help more in the kitchen. They both enjoy it, in their own ways. One loves savory cooking while the other loves to bake goodies – sweets. Some of the recipes they love making over and over are Vegan, Gluten-Free, Dairy-Free Mini Cheesecakes and the best Dairy Free Cheesecake we've ever tried.
Our entire conversation keep on coming back to ways to help our teenagers feel comfortable in the kitchen and easy recipes they can make. Recipes that are great for snack time, grab and go, or for dinner. It doesn't have to be complicated to be delicious. Share with us in the comment section below some of your family recipes that teenagers can help with. We will love to hear about them.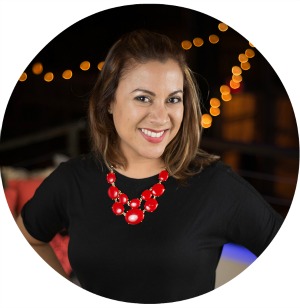 Hi there! I'm Wanda – the creator and author at My Sweet Zepol a healthy food, travel, and lifestyle blog. Passionate about food photography, food styling, entertaining and advocate about creating memories around the kitchen table. With a mission to create easy-to-make meals for the busy family.