What's a Triple Threat Mini Cheesecake?, vegan, gluten-free, and dairy-free mini cheesecakes.  A win, win and win!
This dessert couldn't get any better; unless you add your favorite toppings. For me a cheesecake has to be creamy, smooth, delicious and indulging. Now, taking all into consideration I wanted to make them healthy as well.
My daughter is lactose intolerant and like any kid she is usually hungry. Some of the things she craves, often, are sweets. Here's a recipe that can be enjoyed by anyone and everyone. They are super easy to make and are meant to be enjoyed anytime of the day.
[ultimate-recipe id="5572″ template="default"]
My daughter topped this mini cheesecakes with chunks of peanut butter, dark chocolate chips and left others plain to be enjoyed as is. My favorites where the ones with PB. They were extra creamy and the PB gave them an extra level of protein and goodness. Like a power snack!
If you are looking for a delicious and healthy snack, treat or dessert for your kiddos, look no further; I've got you covered. This triple threat mini cheesecakes are here for the rescue. Next time we make them I want to try other toppings; like seasonal fruits, nuts, and preserves. YUM! I'm craving this mini cheesecakes. Maybe it's time to get into the kitchen and make them happen.
Give your day a break and take some time to enjoy something amazing!
Now, tell me, what is your favorite topping for cheesecakes and have you had a vegan cheesecake before?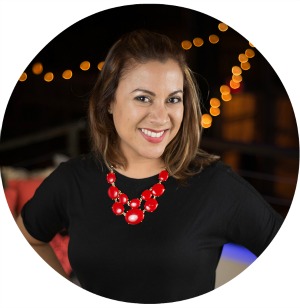 Recipe Developer / Food Photographer / Social Media Influencer
Making memories around the kitchen table and capturing them with my camera is where you'll find me. Unless I'm boarding a plane or on a road trip somewhere with my girls.