What's a Triple Threat Mini Cheesecake?, vegan-free, gluten-free, and dairy-free mini cheesecakes. A win, win and win!
This dessert couldn't get any better; unless you add your favorite toppings. For me a cheesecake has to be creamy, smooth, delicious and indulging. Now, taking all into consideration I wanted to make them healthy as well.
My daughter is lactose intolerant and like any kid she is usually hungry. Some of the things she craves, often, are sweets. Here's a recipe that can be enjoyed by anyone and everyone. They are super easy to make and are meant to be enjoyed anytime of the day.
Vegan, Gluten-Free, Dairy-Free Mini Cheesecakes
Creamy, smooth and healthy treat. Plus super easy to make anytime of the day. Vegan, Gluten-Free, and Dairy-Free Mini Cheesecakes! This dessert couldn't get any better; unless you add your favorite toppings. Give your day a break and take some time to enjoy something amazing!
Ingredients
Crust
1 cup Figs, packed
1 cup Almonds, raw
Filling
1 1/2 cups Cashews, raw
1 Lemon, juice (scant 1/4 cup)
1/3 cup Coconut Oil, melted
1/2 cup Coconut Milk
2 tablespoons Coconut Milk
1/2 cup Pure Maple Syrup
3 tablespoons Natural Peanut Butter
1/4 cup Extra Dark Chocolate Chips
Instructions
Crust
Add figs to a food processor and blend until small bits remain and it forms into a ball. Remove and seat aside. Note: If your figs are not sticky, moist or are a bit hard you can soak them in warm water for about 10 minutes. Make sure to drain thoroughly and pat dry to prevent the crust from getting soggy.
Do the same with the almonds and turn them into a meal.
Mix in the fig into the almond and blend until a loose dough forms. Note: I should stick together when you squeeze a bit between your fingers. If it's too dry, add a few more figs and if it's too wet add more of the almond mixture.
Next scoop in a heaping tablespoon amount of crust on each muffin division and press with fingers. Set in the freezer to firm up. Note: To pack it down use a small glass or the back of a spoon to compact the crust and really press it down.
In the meantime, add the filling ingredients to a blender and mix until very smooth.
Divide filling evenly among the muffin tins. Tap a few times to release any air bubbles. If topping the mini cheesecakes, this is the time to do so. We topped ours with extra dark chocolate chips and scoops of peanut butter. YUM!
Finally, cover with plastic wrap and freeze until hard; about 4-6 hours.
Once set, remove by tugging on the tabs or loosening them with a butter knife. They should pop right out. Optional: You can set them out for 5-10 minutes before serving to soften.
Keep them in the freezer for up to 1-2 weeks. If they last that long!
Nutrition Information:
Yield: 12 Serving Size: 1
Amount Per Serving: Calories: 321Total Fat: 24gSaturated Fat: 10gTrans Fat: 0gUnsaturated Fat: 13gCholesterol: 0mgSodium: 129mgCarbohydrates: 24gFiber: 3gSugar: 14gProtein: 6g
My daughter topped this mini cheesecakes with chunks of peanut butter, dark chocolate chips and left others plain to be enjoyed as is. My favorites where the ones with PB. They were extra creamy and the PB gave them an extra level of protein and goodness. Like a power snack!
If you are looking for a delicious and healthy snack, treat or dessert for your kiddos, look no further; I've got you covered. This triple threat mini cheesecakes are here for the rescue. Next time we make them I want to try other toppings; like seasonal fruits, nuts, and preserves. YUM! I'm craving this mini cheesecakes. Maybe it's time to get into the kitchen and make them happen.
Give your day a break and take some time to enjoy something amazing!
Now, tell me, what is your favorite topping for cheesecakes and have you had a vegan cheesecake before?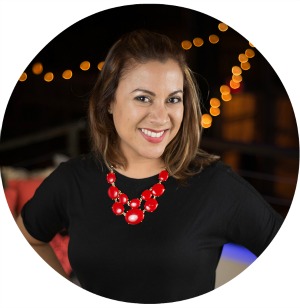 Hi there! I'm Wanda – the creator and author at My Sweet Zepol a healthy food, travel, and lifestyle blog. Passionate about food photography, food styling, entertaining and advocate about creating memories around the kitchen table. With a mission to create easy-to-make meals for the busy family.