Looking for a place to enjoy amazingly delicious food, a beautiful site, maybe a dance or two, or food that will take you back to one of your favorite trips or into your mom's or grandma's kitchen? I got you covered, Cuba Libre Restaurant in Orlando, FL is the place. I'm so looking forward to going with my husband, he hasn't been there and I'm sure he'll love the food and vibe. This restaurant is beautiful.
I was there a couple of weeks back with an amazing group of food bloggers. Sampling the menu, enjoying the atmosphere, laughing, chatting and drinking mojitos. The Classic Mojito is pressed sugar cane (called guarapo), fresh lime juice, mint, Cuba Libre White Rum, and a splash of soda. They have a great variety of specialty mojitos and they all spring from this classic recipe. You'll have to pace yourself, they are super good!
Let's get into the menu I sampled, but warning, you'll want to visit Cuba Libre the next time you are in Orlando. If you do, let me know. Let's meet up!
Cuban Sandwich Spring Rolls, made with sour orange marinated pork loin, Genoa salami, ham, provolone and Swiss cheese, Chinese mustard and sweet chilli dipping sauce. You can't have just one. They are insanely good!
Chicken Croquetas where also a favorite. They refer to them as the Abuela's creamy roasted chicken croquettes and they aren't kidding. I haven't had creamier and more delicious croquettes than this one. The side is a delicious roasted cachucha pepper alliolli.
The Malanga Fritters was an unexpected appetizer. A traditional Cuban street food of crispy taro, garlic and West Indies culantro with a tamarindo ketchup made in house.
I can't wait to go on a date with my husband. He will love the Albondigas Cubanas. They are beef, pork, pine nut and raisin meatballs with a creole tomato sauce and grilled Cuban bread.
I'm a seafood lover and this Shrimp con Mojo was amazing. I love mojo with just about anything. Now, this pan-seared citrus marinated jumbo shrimp, onions, peppers, sliced garlic and crisped yuca with a cilantro-lime mojo sauce is a winner in my heart.
As a Latina having Arroz con Pollo is an almost daily thing. Not something I normally order out, but I have to say this arroz con pollo was pretty good. Made with saffron long grain rice, boneless chicken, green peas, Manzanilla olives, hard boiled egg, asparagus, Palacios chorizo and roasted piquillo pepper salad. Mouth watery by now, right? I agree!
The next two entree dishes where by far my favorite. First, Ropa Vieja, shredded beef brisket stewed with tomatoes, bell peppers, onions, red wine and a side of maduros and steamed white rice. Second, Vaca Frita, tender brisket and crisped-shredded flank steak, roasted onions and citrus-garlic sauce with an out of this world boniato mash.
No one can end the night without some dessert. I couldn't stop eating. Caramel Flan and a Tres Leche Cake mini desserts. Just the perfect size to enjoy after such a delectable menu. Which brings me to this conclusion, we should always start with dessert. I rather take food home for left over than dessert. Anyone with me?
Now, tell me, which dish are you dying to taste? Have you been to Cuba Libre? If you haven't add it to your travel list, it's a must visit. You will thank me later.
Cuba Libre Restaurant & Rum Bar is dedicated to celebrating this great Cuban heritage. They strive for continuing exploration of Cuban flavors, music, art and traditions. The restaurant's name, which translates to "a free Cuba," signifies a hope for the future of the treasured island nation. Read more information about their beginnings here. As a Latina I am drawn to my Hispanic roots, food and music. That's why it's no surprise I am in love with Cuba Libre.
Travel around the world, eat with one another and feel the culture – the love of the people around you. It's all worth it! ~ Wanda Lopez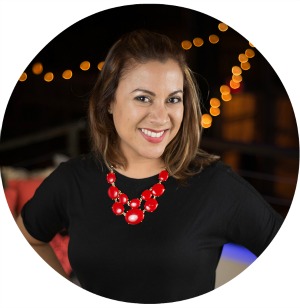 Hi there! I'm Wanda – the creator and author at My Sweet Zepol a healthy food, travel, and lifestyle blog. Passionate about food photography, food styling, entertaining and advocate about creating memories around the kitchen table. With a mission to create easy-to-make meals for the busy family.