Not everyone can have a spacious farmhouse-style kitchen like Joanna Gaines. Tough, we all wish we did. Especially if it was styled by Joanna herself. Instead of focusing on what you don't have, take your tiny space to the max with these smart and creative organizing tricks. And who doesn't love creative kitchen storage ideas for small kitchens of any style and budget?
Creative Kitchen Organization Ideas Must-Haves
1. Nesting Tupperware/Bowls
There are two things I recommend nesting if you have a small kitchen: Tupperware and mixing bowls. It's a great way to save on space and they should nest really well together.
2. Use Lazy Susans for Ease & Storage
One of my absolute favorite tips is using lazy Susan. I can't remember not having lazy Susan. I have a few in my kitchen right now and absolutely love them!
What's great about lazy Susan-s is that they make things more accessible to grab and are also amazing for corner cabinets.
Here's what I use my lazy Susan for and where I think you could use them in a small kitchen:
oils & vinegars

spices

smaller pantry items

place one in corner cabinets of the pantry

place on your kitchen counter for easy access
3. Use Your Oven or Dishwasher if Need Be
Feel like you're running out of space? Use your oven! My sister uses her dishwasher. Who knew that was even an option? I sure didn't.
My cousin lived in New York City for many years and her apartment wasn't very large. If you've been to NYC you know what I'm talking about. She utilized her oven like a queen. (Get it, Queens?) LOL! I knew you would get it.
Your oven can be a great place to store your baking sheets, muffin tins, and even baking pans if you don't have room. My mom kept all of her baking tools in the warmer drawer in her oven, smart right? Just make sure to take them out before you start baking.
And talking about baking, make sure you check out all my favorite baking tools here! 10 kitchen baking tools every baker needs.
4. Don't Forget Above Your Fridge
See that space above your fridge? Use it! Whether you have cabinets up there, or it's just an empty space, it's a space for you to store stuff! I recommend using baskets above your fridge as they're easy to take up and down and they basically act as large drawers. Plus, they make the space look pretty and not cluttered.
This may be the one of the most utilized creative kitchen storage ideas for small kitchens or any kitchen for that matter. We just updated our kitchen during the pandemic, because honestly everyone was updating something at home during this period of time. But, before that we didn't have any cabinet over our refrigerator. We had two baskets and kept things I didn't need as much, but still didn't want to toss out. Like baking pans I rarely used.
You may want to store linen or reusable shopping bags or large bags of treats and snacks.
5. Condense What You Can
Is there anything in your kitchen that you're finding takes up a lot of room? For me, it was boxes. Every box from cereal, pasta and tea boxes. I love tea and have collected a pretty big variety and their boxes were taking up so much room.
Think about what might be taking up room in your kitchen that you can condense!
Things that I condense are:
cracker boxes.

snacks (toss them inside a basket on top of the refrigerator for easy access).

combining spices bottles
6. Hooks Inside Your Cabinets
On just about any list about small kitchen organization ideas is to leverage the backside of your cabinets if you're short on space. My sister didn't have much counter space in one of her houses. She only had two drawers in her entire kitchen – one for silverware, one for other cooking utensils. She didn't have a space for dish towels, let alone potholders.
She purchased some of the sticky hooks I use to hand my front doors wreath. They came in so handy for storing potholders and dish towels on the inside of your cabinets.
This is also a great tip for keeping things out of sight, especially in a small kitchen. A cluttered kitchen may seem smaller than it really is.
7. Stack Your Pans Sideways
Next up, let's talk pots and pans. Because we have plenty of those to go around. These can take up a lot of space, but also be a pain in the butt to store. Most of us nest our pans – meaning we store them inside each other – but while that might save space, it doesn't work so well for using them. Consider getting some adjustable cookware racks.
Essentially they enable you to store your frying pans, baking sheets, baking pans, muffin tins, etc., sideways. They're held upright with wire separators and I think they really do help save space. Plus they're just way more functional!
I've also talked about kitchen storage ideas for an organized kitchen with so many more tips on how to organize your kitchen- whether it's a small or larger space.
These simple tips will keep your cabinets, drawers and countertops organized, tidy and super functional.
My sister had a large kitchen space, but not a lot of counter or storage space. It was mainly wasted space. Is your kitchen small or large? Share with us what is your hack or creative kitchen storage ideas for small kitchens you just can't live without.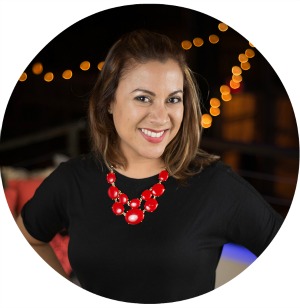 Hi there! I'm Wanda – the creator and author at My Sweet Zepol a healthy food, travel, and lifestyle blog. Passionate about food photography, food styling, entertaining and advocate about creating memories around the kitchen table. With a mission to create easy-to-make meals for the busy family.