When it comes to recipes I always try to make them as nutritious as possible. We have been enjoying chia seeds in a variety of recipes lately. One of our favorites is this strawberry chia seed pudding, made with almond milk. Which makes it vegan and dairy free. It's filling and packed with delicious flavors.
What Are Chia Seeds?
Chia seeds, which are native to Central America, have long been touted as a superfood. They can be made into pudding, blended into smoothies or oatmeal, and even baked into bread! Not only are they versatile, but they're chock full of essential nutrients.
Healthy Benefits of Chia Seeds
They're rich in fiber and protein, but perhaps most importantly for vegans and vegetarians, chia seeds are one of the best plant-based sources of omega-3 fatty acids. We love this post about 10 vegan sources of omega 3 and its benefits. Chia seeds also contain small amounts of calcium, iron and zinc.
Low in calories. Aside from eating them like any other seed, chia seeds have a handy liquid-absorbing property that makes them a great thickener in all kinds of recipes. Relatively low in calories for their nutrition (about 46 calories a tablespoon).
Helps you feel fuller longer. Because chia seeds have lots of fiber, they promote a feeling of fullness, and so might prevent the overeating that contributes to weight gain.
Chia seeds are relatively easy to find in any major grocery store. They are black in color and they have a mild, nutty flavor.
Raw, they can be sprinkled on cereal, yogurt, oatmeal, or smoothies. They can also be eaten cooked, added to baked goods like bread and muffins.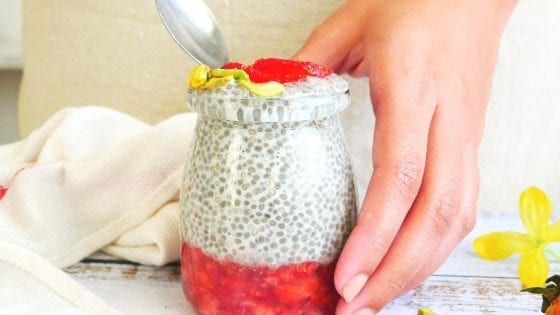 Other Uses of Chia Seeds other than this Strawberry Chia Seed Pudding
Pudding.

Another impressive thing about chia seeds is that when soaked in liquid for a relatively short amount of time, they absorb up to 10 to 12 times their weight in water! This gelling ability not only makes them easy to turn into things like pudding.

Egg substitute.

And chia eggs used in baking.

Just take one tablespoon of chia seeds, and place them in a small bowl or cup. Add 3 tablespoons of water, and wait for about 5 minutes, until it becomes a gel.

Good to garnish.

Use these little seeds to top off all kinds of dishes, from hummus to yogurt, and even salads.

Salad dressing.

Add a little extra crunch to salad dressing by mixing in some chia seeds.

Sprinkled over your favorite food.

I often eat them on toast with peanut butter and banana, or sprinkle them over soups.
Strawberry Chia Seed Pudding
Cook Time:
2 hours
1 second
Total Time:
2 hours
5 minutes
1 second
Strawberry Chia Pudding, a delicious breakfast, snack, or dessert, made in just 5 minutes with only 4 ingredients. It's sweet, creamy, healthy, and nutritious!
Ingredients
1/2 cup non dairy milk, I used unsweetened almond
1 tablespoon Maple Syrup, substitute with 1 pitted date or other sweetener of choice
2 tbsp chia seeds
1/4 cup Strawberries, fresh or frozen
Instructions
Add the milk, maple syrup and chia seeds to a bowl or jar and stir together.
Let sit for 10 minutes, then stir again once the seeds have started to gel.
Cover the bowl or jar and place in the refrigerator for at least one hour.
Once you are ready to serve puree the strawberries in a food processor.
Place the strawberry puree in a serving glass. It can be a mason jar.
Stir the chia pudding before serving and add over the strawberry puree.
Top with your favorite fruit, nuts, seeds or spices.
Notes
Notes: The sweetener can be substituted with dates, agave or honey. Feel free to experiment with your favorite fruit as well! You can substitute the sweetener with Chia seeds can also be made overnight for breakfast the next morning.
Nutrition Information:
Yield:

1
Serving Size:

1
Amount Per Serving:
Calories:

274
Total Fat:

11g
Saturated Fat:

2g
Trans Fat:

0g
Unsaturated Fat:

8g
Cholesterol:

10mg
Sodium:

71mg
Carbohydrates:

39g
Fiber:

10g
Sugar:

26g
Protein:

9g
Get creative with toppings. Add a sprinkle of cinnamon, cardamom (chai spices) or cacao powder (for chocolate chia pudding). Use seasonal fruit both in whole pieces and in purees and don't forget nuts and seeds.
Add Chia Seeds to
Bread batter

Salads

Soups

Oatmeal

Sauces

Muffins and cakes

Smoothies
We love a good yogurt bowl topped with fresh fruit, nuts and seeds like chia seeds and flax seeds like this Pineapple Tropical Greek Yogurt Bowl. Perfect for spring and summer time!
Chia pudding hits a lot of foodie buzzwords: raw, vegan, gluten-free and even dairy free if using a plant based milk like almond milk or coconut milk. Just like this strawberry chia seed pudding recipe. Remember you can substitute the milk with any milk of your choice. Like oatmeal milk, cashew milk, or soy milk.
Remember all the benefits we mentioned earlier, one of them being omega-3 fatty acids. Read more about 10 vegan sources of omega-3, I bet you are already consuming them on a daily basis without realizing it!
There are many homemade versions to play with- just have a look around Pinterest. You'll love all the varieties available.
These tiny little seeds pack a hefty nutrient punch and are all around good for your body and brain. Do you have a favorite use for chia seeds? Let us know in the comments.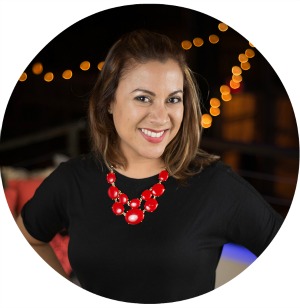 Hi there! I'm Wanda – the creator and author at My Sweet Zepol a healthy food, travel, and lifestyle blog. Passionate about food photography, food styling, entertaining and advocate about creating memories around the kitchen table. With a mission to create easy-to-make meals for the busy family.