During the summer we traveled to El Yunque National Park in Puerto Rico. It was a long over due family trip. We don't live in Puerto Rico anymore, but it will forever be our home. We are originally from this beautiful island and love going back. For a while now we were taking our family vacations to tour around the States. I'm a huge airplane girl, but road trips are embedded in my heart. During road trips we get to stop often and wonder a new state at a time. But, Puerto Rico is a tour on its own and deserves our utmost attention. Some of our favorite parts are always its beautiful white beaches and the deliciously satisfying foods. You can't travel without having food involved.
Now, we all know what Puerto Rico and the surrounding islands went through with Hurricane Irma and Hurricane Maria. El Yunque National Park received a nasty hit and it's currently going through a restoration process. This post is an homage of the beauty found in Puerto Rico and as a way to give the community support. Puerto Rico will get back up stronger than ever and it will renew its beauty. #PuertoRicoStrong
Once you arrive at El Yunque you'll find a tower with an amazing 360 degrees view of pure green foliage, bright blue sky and the sun over you as if giving you a warm and loving kiss. This is just the beginning. The beauty found in this national park is priceless.
A little further down, is the hiking area. This is what this trip is all about. If you like to hike, if you enjoy taking walks around the neighborhood, or enjoy exercising then you'll love this trip. After a 40-45 minute hike you end up in front of the most beautiful sight ever, a magical waterfall with huge rocks guarding a natural pool of the coolest and freshest water around.
One of everyone's first reaction is to strip down, jump right in and cool off. Trust me, I did it too! After a while of relaxing, enjoying the scenery and, even, taking some pictures; it was time to start the walk back up the trail. There's just something magical about nature. The freshness in the air, the bright and beautiful colors, the tall trees showing off their foliage and age, the sounds of the singing birds and the chatting voices of those around you on the trail…it's all magical. Enjoy the moment and take it all in!
Finally, once your out of the trail and back to where you started, you'll find a vendor with some good and exotic fresh drinks. Like mango juice, coconut water, and mango with pineapple smoothies. You can always bring with you snacks and water bottles to snacks on or leave in your car a cooler with lunch for when your back from the trail. Either way you decide to do it, know that you'll need to fuel up after that hike.
Have you been to Puerto Rico and to the Yunque National Forest? I highly recommended it, once it's back to it's potential and ready to receive visitors, go and check it out.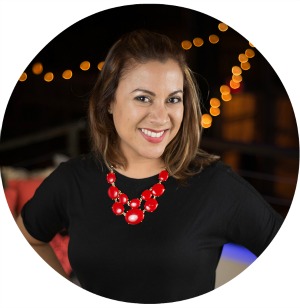 Hi there! I'm Wanda – the creator and author at My Sweet Zepol a healthy food, travel, and lifestyle blog. Passionate about food photography, food styling, entertaining and advocate about creating memories around the kitchen table. With a mission to create easy-to-make meals for the busy family.