Blondies are one of my favorite desserts to make and this white chocolate winter blondies are perfect for this colder days when everyone is indoors and are craving something sweet. Most likely you have everything needed to make this recipe. I've made it twice already in this month alone. After I made a batch I figured my neighbors and their kiddos would love some as well. Those kids think my house is a candy store and they are pretty much on point. Baking makes me happy and there's nothing like a happy neighbor that shares baked goodies. Raise your hand if you like good neighbors that bring goodies your way?
If you love blondies and white chocolate, then you'll love this recipe. I used Guittard Chocolates, which are peanut and gluten free. Using Guittard makes me happy, specially because I love sharing my baked goods with others and I want to make sure everyone is happy and safe. No allergies in my watch. For this recipe I used the Smooth 'n Melty Christmas Petite Mints, they have a peppermint taste and smell to it that just screams winter. They are divine. Had I not used them to bake I would've eaten them all, they are that good.
[ultimate-recipe id="5348″ template="default"]
The white chocolates used in this recipe have some colorful sprinkles making it even more pretty in any baked goods or recipe. I can image how cute they'll look in between some granola mix. Can you see it too?
Grab a hot cup of coffee or a rich cup of hot cocoa or even a nice cup of your favorite tea and enjoy this goodness of a blondie. Now, cuddle with a warm blanket and your favorite book. Winter cold days are not that bad after all. They provide the best setting to enjoy something as good as a piece or two of blondies.
What's your favorite blondie recipe? And are you like me and love sharing baked goodies with others, including house guests?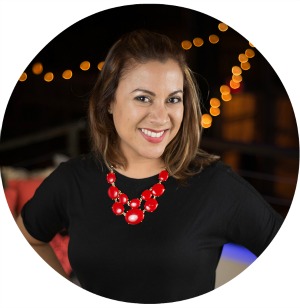 Hi there! I'm Wanda – the creator and author at My Sweet Zepol a healthy food, travel, and lifestyle blog. Passionate about food photography, food styling, entertaining and advocate about creating memories around the kitchen table. With a mission to create easy-to-make meals for the busy family.