White Chocolate Heart Shaped Popcorn Treats
Popcorn is an universal snack and this white chocolate heart shaped popcorn treats are a true treat for anyone around you. Super easy to make, can be modified to your favorite chocolate and toppings and will make someone smile. Worth it!
Valentine's is just around the corner and what better way than to share some love than with a heart shaped treat. Here's one of my girl's favorite snack, popcorn. She loves her popcorn with just about any combination of flavor, but when it comes to sweet toppings chocolate always makes her smile. Here, let me show you how easy this white chocolate heart shaped popcorn treat is to make.
White Chocolate Popcorn Heart Treats
Yield: 4 cups

Prep Time: 10 minutes

Cook Time: 8 minutes

Total Time: 18 minutes

Popcorn is an universal snack and this heart shaped popcorn with white chocolate is a true treat for anyone around you. Super easy to make, can be modified to your favorite chocolate and toppings and will make someone smile. Worth it!
Ingredients
2 tablespoon Oil, any clear oil of choice
1/2 cup Popcorn, un-popped
1 (12oz) package White Chocolate Chips, I used Guittard Choc-Au_Lait Vanilla Milk Chips
Sprinkles, of choice, (I used red, white and pink sprinkles)
Instructions
In a large pot with lid add the oil, at medium heat.
Toss in the popcorn.
As soon as the first corn pops put the lid on and let it pop on.
When it stops popping remove from the heat and set aside.
In the meantime, start melting the white chocolate. This can be done in small batches in the microwave with a microwave safe bowl, give it 30 seconds. Mix and if needed give it another 30 seconds or less. Keep mixing until it is completely melted.
Tip: Depending on the amount of chocolate I am melting at a time I start with 30 seconds and the second time I will do 20 seconds.
Prep a baking sheet with parchment paper.
Place a heart cookie cutter and inside it add a tablespoon of the melted white chocolate.
Arrange some popcorn, make sure they all touch the melted chocolate.
Carefully remove the cookie cutter. The popcorn will hold its heart shape.
Repeat until you have all the hearts you wish.
Drizzle some more melted white chocolate over each heart and sprinkle some white, red and pink sprinkles over. Let it set.
Now you have heart shaped popcorn treats!
Enjoy and share!
Nutrition Information:
Yield: 24 Serving Size: 1
Amount Per Serving: Calories: 39Total Fat: 3gSaturated Fat: 1gTrans Fat: 0gUnsaturated Fat: 2gCholesterol: 1mgSodium: 15mgCarbohydrates: 3gFiber: 0gSugar: 2gProtein: 1g
When we think, treats or snacks, some things come immediately to mind like chocolate and popcorn. Even if you are more of a healthy kind of person, popcorn is always a good snack.
This heart shaped popcorn treats made with melted chocolate and topped with cute sprinkles are so easy to make I bet you are already coming up with variations for other holidays of the year. Maybe a green clover for St. Patrick's Day.
Aha! Got'ya! You are coming up with other theme ideas for this recipe! That's awesome. And if you weren't you are now. Still a win-win situation.
Your friends, kiddos, loved one, and your kids teachers will love this treat. I'm thinking it's a great project to make in the school with the kids.
The popcorn can be make in the microwave and the chocolate sets pretty fast. They'll be enjoying this heart shaped popcorn treats in no time and even bringing some home for their moms.
You'll be the parent (or teacher) of the year. You welcome. LOL!
I bet we all agree that the enjoyment of popcorn is universal and the varieties are never ending. Like this sweet and salty caramel popcorn, one of my personal favorite flavor combinations.
Make this white chocolate heart shaped popcorn treats for your significant other and kiddos for Valentine's Day and year round. A perfect way to share some love.
Now, tell me, what's your favorite popcorn flavor?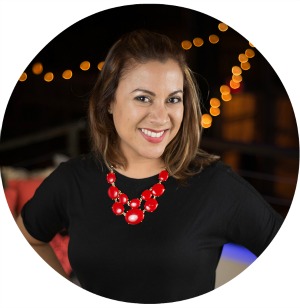 Hi there! I'm Wanda – the creator and author at My Sweet Zepol a healthy food, travel, and lifestyle blog. Passionate about food photography, food styling, entertaining and advocate about creating memories around the kitchen table. With a mission to create easy-to-make meals for the busy family.