This shop has been compensated by Collective Bias, Inc. and its advertiser. All opinions are mine alone. #MyTFMValentine #TheFreshMarket.This content is intended for readers who are 21 and over.
Love at First Bite is how I would describe this dish! Serve up something special with the most amazing premium choice sweetheart ribeye steak. Why sweetheart? Because you can ask the butcher at the counter to butterfly the ribeye for you, it's share transforms into a heart looking shape. The butcher is always intrigued by my requests, this one was his ultimate favorite. That's one of the reasons I love The Fresh Market.
The Fresh Market is one of my favorite places to go after church. I always find inspiration for our weekly meals. From seasonally fresh produce to exceptional meat and seafood, signature baked goods and carefully curated organics, all the foods you love are waiting for you at The Fresh Market. Its meal solutions deliver a thoughtful and innovative range of options for any dining occasion or cooking ability, while helping guests discover new flavors. The specialty grocer has fresh, delicious food with friendly service in a warm and inviting atmosphere.
My husband and I don't always have a chance to enjoy date nights. The girls are growing up and we don't always need a sitter, but their schedules and ours are crazy and making time to plan a date night out in town is becoming a little tricky. That's where the "at home date nights" comes into place. Those are always fun. He's in charge of what to do or watch, plus the wine selection and I'm in charge of the meal. Here, let me show you what you can cook up for an at home Valentine's date night.
A romantic dinner for two with a His and Hers grilled sweetheart ribeye steaks. Cooked to perfection and topped with the most amazing toppings you've ever enjoyed over steaks. Spend some time with your loved one right at home. Dating made easy!
| | |
| --- | --- |
| | |
Season ribeye steaks. Let sit at room temperature for about 30 minutes.

Place the steaks on the grill and cook until golden brown and slightly charred, 4 to 5 minutes. Turn the steaks over and continue to grill 3 to 5 minutes for medium-rare (an internal temperature of 135 degrees F), 5 to 7 minutes for medium (140 degrees F) or 8 to 10 minutes for medium-well (150 degrees F).

Once steaks are grilled, set aside and start the toppings and sauces and the take and bake raspberry and almond baked brie.

For the red wine sauce, cook the red wine in a small saucepan; boil until reduced to 1/4 cup, 8 to 10 minutes. Remove from heat; add the cold cut-up butter, and swirl pan until butter is melted and sauce is thickened, about 1 minute. Season with salt and ground pepper. Serve over one of the steaks and top with panchetta and gorgonzola cheese.

For the pico de gallo simply add all the diced ingredients together and mix. Voila! That's it for that topping.

Now for the garlic browned butter sauce. In a medium saucepan, combine butter and garlic. Cook and stir over medium heat until butter is melted. Cook for 5 to 8 minutes or until butter is lightly browned, stirring occasionally and skimming foam as necessary. Remove from heat.

Top the other ribeye steak with the pico de gallo and garlic browned butter sauce. Add as a garnish any herb of your liking, optional.

For the Raspberry Almond Take and Bake Brie heat oven to 425 degrees. Place on lightly greased cookie sheet and bake for 20-25 minutes or until pastry is golden brown. Allow to rest for 2 minutes before serving. Enjoy!

Now you have a his and hers grilled sweetheart ribeye steaks. Enjoy with a glass of Salvatore Principe Cabernet Sauvignon.
It's a his and hers grilled sweetheart ribeye steaks dinner for two. His ribeye steak is loaded with pancheta, gorgonzola cheese and a deliciously homemade red wine sauce. For her a more light and fresh topping; pico de gallo and a drizzle of a warm brown butter. Both steaks where cooked to a medium rare. For me that's perfection in every bite. How do you like your steaks?
You can't have ribeye steaks without wine and you can't have a romantic dinner without roses. Our wine selection was Salvatore Principe Cabernet Sauvignon, with the perfect after taste and rich in color showcasing dark plum and cherry flavors accented by layers of chocolate; perfect for grilled meat like our ribeye. Also, perfect with cheese. While at The Fresh Market go and grab a special take & bake brie from Deli, its a Raspberry Almond Take and Bake Brie that you'll love and buy over and over.
Celebrate a memorable Valentine's Day with all the right ingredients. No need to whip up a love potion or count on Cupid. The Fresh Market has everything you need for a romantic and delicious Valentine's Day—and dinner! Click on the link and explore all the wonders available for you and your sweetheart for this Valentine's Day.
Have you enjoyed an at home date night? If so, what does a date at home look like for you and if you haven't let me know what would your at home date night look like! We enjoy good food, wine, something sweet and a movie (or TV series).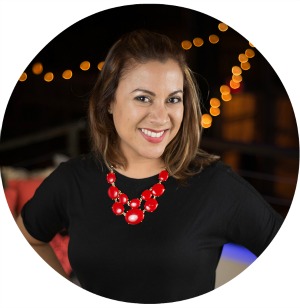 Recipe Developer / Food Photographer / Social Media Influencer
Making memories around the kitchen table and capturing them with my camera is where you'll find me. Unless I'm boarding a plane or on a road trip somewhere with my girls.