Whether you're looking to relax in an illuminated outdoor space at night, or just want to add some unique decoration to your yard, we have some factors to consider when buying solar lights for your home.
WHAT ARE SOLAR LIGHTS?
Solar power is the most economical form of energy since it is derived from the sun's rays.  Solar lighting uses solar cells, which convert sunlight into electricity, stored in batteries for use when it gets dark outside. This form of lighting is used in streetlights and in more confined areas such as your garden, porch or patio.
Factors To Considered Before Buying The Best Solar Lights For Home
Before you decide which lights to buy, you must consider a few important factors before buying the best solar lights for homes in India. These are incredibly efficient and beneficial devices – so you must have adequate knowledge about them before buying one.
1. Solar Lights For Garden
Solar lights meant for gardens are usually designed to look aesthetic and stylish so that they light up your garden in the most beautiful way possible.
Solar lights for gardens are the most popular type of solar lighting for outdoor spaces. No matter how dark or late it gets, these solar lights will always light up your garden, and make it look warm and inviting.
Different Areas of the Garden that Might Require Different Kinds of Lighting.
Solar path lights

; These are meant to light up the pathways in your garden, (if any) and they tend to be small in size.
They are used to provide soft illumination to the path so that there is enough light for people to watch their steps.
These provide an enchanting glow to the pathways that are not only necessary but also give an aesthetic look to your garden.
Ambient and decorative solar lights

; Decorative solar lights are present mainly for style, show, and hence. They are less bright than path lights.
These are available in the form of decorative lanterns, colorful blown glass, or string lights. You can fix them alongside path lights, for an ambient glow in your garden.
I would put these around my garden. Especially if you are raising garden beds. Giving it a very elegant look.
Task lights/ spotlights

– These are the brightest solar lights available, and they provide as much light as a 40-watt incandescent bulb.
While it is quite bright, it is still not as much as a regular spotlight and hence, you will have to fix more than one spotlight for the desired lighting. These are useful for lighting up gateways or driveways.
2. Solar Lights For Security
While solar lights are a great way of providing aesthetic effects to the garden and your home, they are also useful when it comes to security purposes.
They can be used to provide light to dark spots in and around your house. You can get these fixed on your front or back porch, and they are usually facilitated by motion sensors that can sense when anybody is nearby and illuminate the place.
There is no need for energy charging these security lights, which makes them convenient and easy to maintain. Don't you love a good solar lighting option?
3. LED Solar Lights
Solar lights, in most cases, are dependent on LED lights for providing bright illumination to a particular place in the home.
Most manufacturers of solar lights tend to use LED bulbs, since they make the entire system more efficient, eco-friendly as well as pocket-friendly. If there are dark spots in the garden, it is ideal to use LED bulbs for bright illumination.
4. Hue Or Color Of The Light
As mentioned earlier, LED bulbs are quite commonly used for solar lighting due to various reasons. LED bulbs tend to emit a bright, white light that is great for illuminating dark spots.
However, you might be interested in different hues to make it look more aesthetic. For this purpose, incandescent bulbs are available in the market. These also come with tinted covers, like amber or soft white. Having a variety of color lights in the house makes it easy to change the lighting as per the occasion.
5. Budget
The last, but equally crucial factor that needs to be considered before getting a solar home lighting system, is your budget. There are a variety of solar lights available in the market today, as more and more companies are manufacturing these.
They fall under varying price ranges, depending on quality, performance, and other factors.
This simply translates to the fact that the brighter the lights are, the more expensive they are. You must fix a budget for yourself before venturing out into the market. This will help narrow down the options and buy the product that meets your requirements.
6. Disadvantages Of Solar Lights
While solar lights are very useful and efficient elements, they come with a few cons that are important to mention. They might be slightly more expensive than the standard lighting systems, especially the high-quality ones. However, there are hardly any maintenance costs, and these lights tend to be more durable – so the long-term expenditure is not so much.
Solar lights tend to be less bright as compared to standard lights. Yet another drawback is that the lights are completely dependent on solar energy, and the batteries can store energy only on sunny days. This constant dependence on the weather makes these lights vulnerable.
We do live in Florida which is called the Sunshine State for a reason.
Keeping in mind these limitations, we give a big thumbs-up to solar lighting systems.
We hope that this article will provide you with the support and guidance that you are looking for in buying the best solar lights. For more solar lighting ideas and inspiration for your yard read here. You'll absolutely love all the tips!
Before you go, tell us, do you use solar lights at home? Tell us where you like adding solar lights, maybe it's the walkway to the front door like us. We are hunting for something for my backyard so if you have any you like let us know. We love a good tip!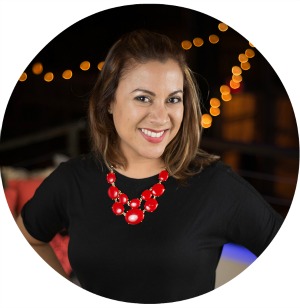 Hi there! I'm Wanda – the creator and author at My Sweet Zepol a healthy food, travel, and lifestyle blog. Passionate about food photography, food styling, entertaining and advocate about creating memories around the kitchen table. With a mission to create easy-to-make meals for the busy family.