My first job was in a bakery, I was 16 years old. It was family own. Almost all my cousins worked there at some point or another. Some of my most memorable cookies are the grajeas, some people know then as mantecaditos. For others sprinkle cookies will do. Today's post is all about these fall sprinkle grajeas or mantecaditos de Otoño.
The beauty of these cookies is its versatility. Not in the cookie dough, but in the topping. There are dozens of sprinkle colors available and the combinations are endless. For these Fall season I got together a combination of orange and yellow sprinkles and topped others with beautiful orange sugar crystals. Beautiful and delicious.
How to make Fall Sprinkle Grajeas (or Mantecaditos de Otoño)
Fall Sprinkle Grajeas (or Mantecaditos de Otoño)
Yield: about 2 dozens

Prep Time: 15 minutes

Total Time: 15 minutes

Mantecaditos, grajeas or sprinkle cookies. No matter how you call them these cookies are not only versatile for it's topping, but are delicious and beautiful. Super easy to make and can be adapted to any theme, holiday or festivity.
Ingredients
1/2 cup Butter, room temperature
1/2 cup Vegetable Shortening
1/2 cup Sugar
1/2 teaspoon Almond Extract
1/2 teaspoon Vanilla Extract
2 1/4 cups Flour
1 teaspoon Orange Food Coloring
Sprinkles
Instructions
Heat oven to 350 degrees.
In a medium bowl or electric mixer cream the butter, shortening and sugar until smooth.
Add the almond and vanilla extracts.
Mix in the flour a little at a time.
Add the orange food coloring. I use a teaspoon, but you can add more or less.Tip: You can make this cookies with any other color or no color at all.
Using a small ice cream scoop out dough.
Flatten out each ball using your hands, top with the sprinkles and put on the baking sheet. Leave some space between the cookies for spreading while baking.
Bake for 20-25 minutes or until they are a light golden color.
Cool on a wire rack.
Now, that you know how easy they are to make you are probably thinking of color combinations for other holidays. Any ideas where you can personalize these lovely sprinkle grajeas (or mantecaditos)?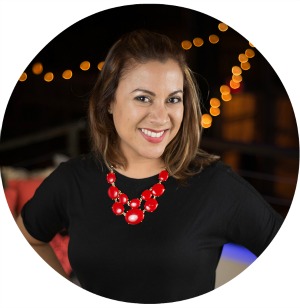 Hi there! I'm Wanda – the creator and author at My Sweet Zepol a healthy food, travel, and lifestyle blog. Passionate about food photography, food styling, entertaining and advocate about creating memories around the kitchen table. With a mission to create easy-to-make meals for the busy family.