This shop has been compensated by Collective Bias, Inc. and its advertiser. All opinions are mine alone. #Healthy4School #CollectiveBias
Can you even believe it's November already? School is almost halfway through. Both my daughters have had countless school work, tests and projects. Something else that has happened during the last couple of months is the beginning of new friendships. Don't you just love new friendships? I do and if you are anything like me, you like to meet your kids friends and their parents too. In order to meet their new friends and moms I hosted a "meeting the "new" school friends" party and you are invited too! Don't worry, it's a casual party. No fancy attire needed!
You can't have a party without food. Here's what we all enjoyed: triple chocolate fudge cupcakes with a beautiful crisp white frosting – my favorite, frosted sugar cookies – my girls favorite, vanilla pudding cups topped with whipped cream and fresh raspberry – a true beauty, nachos with chunky salsa – because you need something salty too, fresh fruits (apples and berries), and for drinks some delicious fruit punch juice.
As it turned out, I made new friends too. The moms that came over are as nice as their kids. We shared knowledge and gave each other support, all in a couple of hours. As moms we tend to make lists and check them twice. We attempt to cover all our bases when it comes to keeping our kiddos as healthy as possible, specially during school days. Something I shared with them is the list of the essentials I can't live without during the back to school season. But, I did something even better than just share a list, I gave them all a handmade chevron pouch filled with my favorite health care essentials.
You can make your very own chevron pouch too.
Material for making a chevron canvas pouch
chevron canvas fabric
12 inch zipper
cotton fabric for the inside of the pouch
fusible interfacing (optional)
matching color thread
sewing machine
Instructions for making a chevron canvas pouch
Note: All seams are 1/2″. If you have any questions during any step, please feel free to contact me and I can walk you through it. Once you make one, you will want to make many. They are super cute and easy to make.

Cut all your fabric using the pattern (template).
Prep the zipper using the pattern (template). Fold tabs in half crosswise, having pressed edges even. Encase each end of zipper with tab. Stitch close to pressed edges.
Fuse interfacing to wrong side of each front and back section, following manufacturer's instructions. Note: using an interfacing is optional.
Pin lining to each front and back section, having right sides together. Stitch along upper edge, pivoting at small circles. Clip to small circles. Turn right side out and press.
Place upper edge of one front and back section over one side of zipper take, extended ends of zipper evenly at sides. Stitch close to upper edge of front and back using a zipper foot. Apply remaining front and back section to opposite side of zipper in same manner.
Open zipper. Note: this step is super important. Pin front and back sections together at sides; pin lining sections together at sides. Stitch in one continuous seam, keeping zipper free. Stitch lower edges of front and back together. Stitch lower edges of lining together, leaving an opening for turning.
Fold lower corners of bag, having right sides together and matching seams; stitch. Also stitch lower corners of lining together in same manner.
Turn right side out; press. Sew opening. Turn organizer/pouch right side out; press.
Remember to pull out the tabs as well.
Fill it with some of my favorite products:
• Centrum® – Ever since I was growing up, Centrum® was part of my household. My mom always had these vitamins in her medicine cabinet and took them daily. So does my sister and so do I. It's has been passed down to all the members of our family. I like Centrum Vitamints®: Essential nutrients you enjoy like a mint, including 100 % or more of Vitamins C, D, E, and B6."
• Emergen-C® – The first time I tried Emergen-C was through my husband. He has always used it, since he was in school. I feel so much more ready when a new school year starts. Emerge and See. Emerge restored. Emerge replenished. Emerge Fortified*
*These statements have not been evaluated by the Food and Drug Administration. This product is not intended to diagnose, treat, cure, or prevent any disease.
• Advil® – This is one product I can't live without. Not only has my parents always used Advil®, my siblings do too and now my kids. Advil® is a brand I trust year round, especially during school season because nothing's faster on tough pain. *Use as directed.
• Chapstick® – While I was growing up in Boston, I always carried around with a Chapstick®, or two in my pocket and backpack. Now, my daughters have their very Chapstick®s too. It moisturizes & softens for smooth lips everyday. With some very cool flavors. Tell me, which is your favorite flavor? I am a strawberry fan.
• Robitussin® – For me there is nothing like having Robitussin in hand to feel ready for when school starts. I can't live without it because your cough doesn't stand a chance. *Use as directed.
There you have it, your very own chevron pouch. I carry one in the car and keep another in the house. We can feel confident that we have all our bases covered when it comes to keeping our family healthy and feeling their best. No germs allowed thanks to Pfizer products that's always there for me during the back to school season and all year round! Plus, once you are no longer using your pouch as a first aid kit, you can use it for your own personal essentials and carry it in your tote.
I went to our local super Walmart and not only did I find everything needed for this lovely diy, but I also found everything for my party. Having kids running around the house and their moms and I enjoying a treat and long conversations was the perfect way to spend our afternoon.
Tell me are you like me? Do you like meeting your kids friends and their parents? If so, start planning a casual party and invite them over.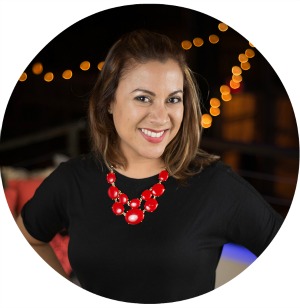 Hi there! I'm Wanda – the creator and author at My Sweet Zepol a healthy food, travel, and lifestyle blog. Passionate about food photography, food styling, entertaining and advocate about creating memories around the kitchen table. With a mission to create easy-to-make meals for the busy family.