During this summer my youngest daughter has been baking quite often. She is 10 years old and dreams of owning a bake shop. I say,"dream high my baby girl". My job is to support her on her dreams and help on whatever I can. In this case is with some baking lessons. When you were a kid, what did you dream on becoming? I also wanted to own a coffee shop with lots of baked goods. It helped that my first job was in a family owned bakery, owned by my cousin. Pretty much a "Cake Boss" kind of deal. Funny how things happen. Now, I bake for our family, friends and anyone around me. For fun, for love and to share here on the blog.
Here's what my girl baked for a Friday night gathering, flowerless mocha cupcakes topped with whipped cream. Super simple and fun to make. I wanted her to start baking fast, easy and delicious goodies. When she gets older and want to add more intricate recipes to her repertoire, I'll be there to help as well.
| | |
| --- | --- |
| | |
Heat the oven to 350 degrees.

Grab a cupcake/muffin baking pan and insert cupcake liners into them.

Put the coffee powder, butter, sugar, honey, and water in a pan and heat gently. Stirring until the sugar has dissolved.

Bring to a boil, then reduce the heat and let simmer for 5 minutes.

Pour into a large heatproof bowl and let it cool.

When the mixture has cooled, sift in the flour and cocoa.

Dissolve the baking soda in the milk, then add the mixture with the egg and beat together until smooth.

Spoon the batter into the paper cases. Tip, I use a small ice cream scooper. This helps them bake all the same size.

Bake for 15-20 minutes or until a toothpick comes out clean. They should be well risen and firm to the touch.

Transfer to a wire rack to cool.
Whip the cream, powder sugar and vanilla extract in a bowl until it holds it's shape. Tip, to make it even easier for your young chef (kid) use Cool Whip, they will love the final result just as much and will have less work to do.

Just before serving, spoon heaped teaspoonfuls of cream on top of each cupcake. This is a great job for the kids to show off their skills.

Dust lightly with sifted cocoa powder.

Store the cupcakes in the refrigerator until ready to serve, or any leftover, if any!
I love getting in the kitchen with my girls. We are building a foundation early on. A passion for food, where it comes from and the variety of dishes that can be made. Get kids into your kitchen, get messy, have lots of laughs and make memories. All of these are, priceless.
Now, tell me what have you been making this summer? Any new recipes or crafts?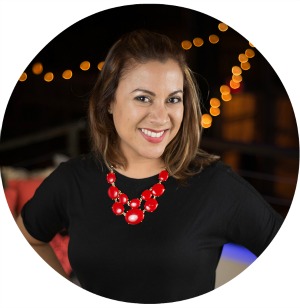 Recipe Developer / Food Photographer / Social Media Influencer
Making memories around the kitchen table and capturing them with my camera is where you'll find me. Unless I'm boarding a plane or on a road trip somewhere with my girls.