This shop has been compensated by Collective Bias, Inc. and its advertiser. All opinions are mine alone. #FuelForSchool #CollectiveBias
Where did summer go? As our kiddos go to school we find ourselves asking this question. A new school year with many adventures. That is why it is very important to start the day right. The best fuel of the any day is breakfast time. As busy as our days are no one leaves the house without having breakfast. Jimmy Dean® breakfast sandwiches are delicious, satisfying, high quality breakfast solutions for the perfect start to any morning and perfect for on the go too. Just perfect for our weekly mornings, always on the run.
I am very excited to see my girls flourish on a new stage in their lives, but that normally includes chaos. With a kid in middle school and another is elementary I find myself with different schedules and a sense of panic. My mom and abuelita were very organized women and with their serene way of doing things they kept the house going in a very envious orderly way.
Inspired by them both I came up with a very cute craft that will keep up on task and I believe you will love it too! During my run to Walmart to get breakfast and after school #fuelforschool essentials I grabbed clip boards and embellishments to have the girls customize them as they wish. At the end of the day the clipboards are a tool to help them stay on track with their back to school routine. The more they love them the more they'll use them. Here's how to make a dry erase clip board.
Materials:
Clip Board
Acrylic Paint
White Gloss Vinyl
Markers or White Acrylic Paint (to write on the board)
Velcro
Dry Erase Marker
Washi Tape (for decorating)
Directions:
Paint clipboards with paint of choice, let the kiddos choose their favorite colors.
Decide what you want to the boards to have written on.
Cut out the vinyl into squares.
Add a piece of velcro on the dry erase marker, this will hold it in place at all time.
Now, is time to decorate the clipboards. Use washi tape, ribbons, scrapbook paper or anything your sweet heart desires.
And their you have it! A clip board fit to keep any kid (and parent) on track during the school year.
When the girls get home from school they are very hungry and most of the days I haven't started supper. My go to after school snacks are corn dogs made with honey-sweetened cornbread batter from State Fair®, they produce a variety of delicious meal solutions that we all love. You can find State Fair® Corn Dogs in the freezer section at Walmart. I always have in hand for our on the go lifestyle.
Here's another tip, at the end of the week don't forget to reward your kiddo with something they'll enjoy for staying on track during a busy school week. Some ideas could be 10 minutes extra before bed time for TV, a sleepover with their sibling (my girls loves to sleep over at each others rooms), an extra treat, or 10 more minutes for video games. What ever you choose make sure is something your child enjoys, this is a great incentive for being such a good kid!
What are some of your favorite back to school tips and tricks? I'd love to hear your favorite!
Welcome back to school!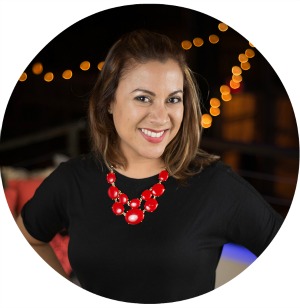 Hi there! I'm Wanda – the creator and author at My Sweet Zepol a healthy food, travel, and lifestyle blog. Passionate about food photography, food styling, entertaining and advocate about creating memories around the kitchen table. With a mission to create easy-to-make meals for the busy family.