Treat Yourself to a Refreshing Guava Frozen Lemonade
While I was growing up we had a guava tree in the side of our house and one of our favorite things to make with them was guava juice. My mom made a delicious nectar our of the guava. It's a great way to preserve guava for when it's off season. To give our guava a twist we mixed it with lemonade. Can you image a glass of guava lemonade? It's absolutely delicious and refreshing.
Now, as a mom, I love making frosted lemonade for my girls, family and friends all the time. It's refreshing, with unexpected flavors, fun and a conversation starter. Here I'll show you how I take it a step further and make a guava frosted lemonade using Minute Maid® Lemonade. You can also make a Guava Infused FUZE® Tea, I added the recipe for you to make and enjoy. Double recipe is always a win-win!
Guava Frozen Lemonade
Yield: 6

Prep Time: 10 minutes

Total Time: 10 minutes

Give your lemonade a twist with guava nectar. With only two ingredients you will impress everyone.
Ingredients
3 cups Guava Nectar
1 (16.9 oz) bottle Minute Maid Lemonade
1 Lemon, zest
Instructions
Freeze guava nectar in an ice cube tray.
Toss the frozen guava nectar and Minute Maid Lemonade in a blender and combine until smooth.
Add the lemon zest and give it one last run.
Serve immediately.
Enjoy!
You can find Minute Maid in your local Publix, and the good news is that you can also find the guava nectar there too. No need to run around for you essentials, Publix's got you covered!
We love being outside and entertaining. Our Latina family is, (like many others) big and love getting together. Here's a tip for entertaining often and still enjoy it, create a designated drinks and dessert table. Use a table of regular height and dress it up with a color theme. For my guava frosted lemonade I use some lemonade inspired napkins, cups, a fun banner, and cute straws. This table is always a hit. Everyone knows where to find what they are craving and I don't have to be running around back and forth to the kitchen. It's all about having fun and making lots of memories together.
These beverages are fun refreshments for the summertime. They're perfect to buy when you're getting together with friends and family and pair well with summer recipes.
Here's another guava recipe:
FUZE Guava Infused Tea
Freeze 1 cup of Guava Nectar in an ice cube tray.
Once frozen toss a couple on a glass.
Add in a can of FUZE Iced Tea Lemon and stir with a cute straw.
It's the perfect way to bring in your memories from back home anywhere you may be located. Have fun with the family, bring out the Domino's and get this party started!
Love saving? I got you covered, you can save a $1 when you buy any (2) 2-liters in-store coupon, you can also earn a $1 on 12-pack, 12oz cans on FUZE® tea and Minute Maid. Can't do summer without this refreshing drinks.
Tell me what is your favorite tip for having a fun time with family/friends during the summer? Any tip for easy entertaining?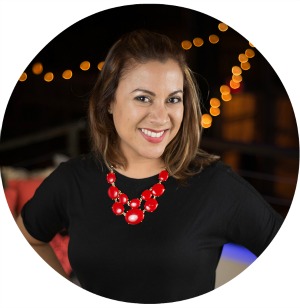 Hi there! I'm Wanda – the creator and author at My Sweet Zepol a healthy food, travel, and lifestyle blog. Passionate about food photography, food styling, entertaining and advocate about creating memories around the kitchen table. With a mission to create easy-to-make meals for the busy family.