Cook faster without losing any flavor with the new Breville Combi Wave 3-in-1 Microwave.
Today we are introducing the NEW! Breville Combi Wave 3-in-1 Microwave. The combination Microwave that Air Fries and is a convection oven. The exterior offers an attractive complement to your existing kitchen décor. Because we don't want to lose any of the pretty aesthetic we already have going on in our kitchen! Now available at Best Buy. While this post is sponsored all opinions and thoughts are as always our own.
Nowadays everyone seems to be busy with little time to get things done. There was a time when 30-minute meal recipes where all I searched for. I wanted to have the entire family by the table and share our days with each other, stay connected while making memories. Especially with the girls growing up and time going by so fast I couldn't let meal time go by without getting everyone by the table at the same time. Can you relate?
With more and more small appliances with high-touch tech emerging, we couldn't let this moment go by without introducing the new Breville Combi Wave 3-in-1 Microwave. This is a premium brand design, with engineering and reliability that matters to me. And I bet it matters to you too. We all want to get that one (or two) appliance(s) that can help us get meals on the table faster without losing flavor.
The Breville Combi Wave 3-in-1 microwave lets you air fry (crunchy fries, brussel sprouts, chicken wings), bake or roast (whole chickens, lasagna, chocolate brownies) or simply microwave with even heat distribution. Raise your hand if you are thinking, Christmas gift! I know I am.
The Combi has an 80% quieter soft close door – so no more microwave slams! Now, that's something I can get behind because my kids can slam a microwave door. So loud! It's also 50% quieter while in operation. Clever touches like child lock & mute buttons mean fewer beeps/bumps/clangs and more pops, bites, and crunches!
The "Fast Combi" function of the Combi Wave 2-in-1 is designed to cook your favorite dishes faster. Using Microwave, Convection Oven and Grilling to achieve the desired temperature and perfect results in less time. Intuitively easy presets at your fingertips: Smart Cook, Smart Reheat & Smart Defrost.
The Power Smoothing™ Inverter gives you precise & even heat distribution, reheating & cooking dishes evenly for more delicious results. Powered by the Element iQ system, smart algorithms steer power to where and when it's needed to create the ideal cooking environment.
Now, share with us some of the dishes you will be cooking this holiday season. Put this Breville Combi Wave 3-in-1 Microwave on your Christmas list, you will love it year-round!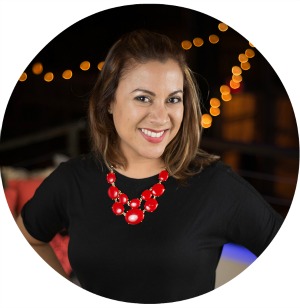 Hi there! I'm Wanda – the creator and author at My Sweet Zepol a healthy food, travel, and lifestyle blog. Passionate about food photography, food styling, entertaining and advocate about creating memories around the kitchen table. With a mission to create easy-to-make meals for the busy family.