I have to say that ground meat is about as easy as it gets when it comes to putting a meal in the table with the exception of carry out or delivery. Agree? If unsure, you will agree after making this easy and delicious meat lovers chickpeas recipe. Chickpeas, bacon and ground meat packed with flavor and flare. Yes and yes!
My mom makes a delicious pasta dish with ground meat that is comfort food to it's finest. I will be sharing that recipe soon. In the mean time, here is one of my favorite takes on ground meat. I add chickpeas to give it another level of goodness. Chickpeas are one of my favorite snack options. I roast them with all sorts of seasonings and it feels like I'm enjoying a whole new snack every time.
Meat Lovers Garbanzo
Comfort food to it's finest. Chickpeas with ground meat and bacon for the meat lovers at heart. Full with flavor and ready in about 30 minutes, that's a win-win anytime of the week.
Ingredients
3-4 strips Bacon
1 tablespoon Bacon, fat (grease)
4 cups Chickpeas
1 pound Ground Beef
2 teaspoons Cumin, ground
1 teaspoon Paprika
2 cloves Garlic, minced
3-5 tablespoons Salsa
Salt and Pepper, to taste
1 tablespoon Fresh Cilantro, plus more for garnish
Instructions
Cook the bacon strips in a skillet until well cooked and crispy.
Once cooked, remove from the skillet, crumble it and set aside.
Use a tablespoon of the bacon grease and discard the rest.
In that same skillet take the tablespoon of the bacon grease cook the chickpeas.
Cook until crispy, about 5-10 minutes, stirring occasionally. Keep an eye on it.
Mix in the bacon crumbs and set aside.
Using the same skillet cook the ground beef.
Season with the ground cumin, paprika, minced garlic and salsa sauce.
At this point add in the chickpeas.
Taste and add salt and pepper to your liking, (if needed).

Add the cilantro, mix well.
Serve over white rice, pasta or greens.
Enjoy!
You can serve this delicious chickpeas and ground meat with a side of white rice, pasta, veggies, greens or tortillas. Can you see some tacos in your future? Did I miss anything? Show me some light and let me know if you can think of another side for a good and delicious ground meat.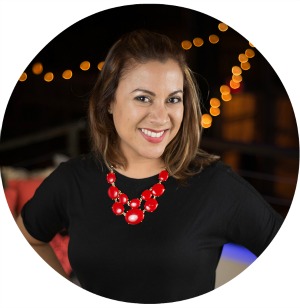 Hi there! I'm Wanda – the creator and author at My Sweet Zepol a healthy food, travel, and lifestyle blog. Passionate about food photography, food styling, entertaining and advocate about creating memories around the kitchen table. With a mission to create easy-to-make meals for the busy family.