Chimichangas are a favorite in our house. We add everything from chicken, to beef to veggies and even fruits making them dessert or a treat instead. Is your mouth watery already? I hear you. You are probably thinking of ways you can make chimichangas for dinner tonight and I got you covered!
We love #TacoTuesdays and taco inspired dishes any day of the week too. Here is one recipe you can easily make tonight or during the weekend. You choose! Have fun with it and make it your own. Now, lets get cooking.
Taco Chimichangas
The best taco chimichangas, ever! Bold statement? Yes, yes it is. You will love how easy and fast they are to make. Crispy, spicy, tasty, and pure happiness!
Ingredients
1 pound Ground Beef, lean
2 cloves Garlic, chopped
2 tablespoons Taco Seasoning
1 (10oz) can Ro-Tel diced tomatoes with lime & cilantro
1 cup Taco Inspired Hummus, Sabra
1 cup Sour Cream
1 1/2 cups Sharp Cheddar Cheese, grated
12-15 Flour Tortillas, soft
2 cups Vegetable Oil, for frying
Instructions
In a skillet cook the ground beef, with the garlic, taco seasoning and Ro-Tel.
Cook until no longer pink and it is a lovely brown color.
Let it cool a bit. This will make it so much easier to handle when assembling the chimichangas.
Grab a tortilla, spread a teaspoon or so of hummus, followed by the sour cream, meat, and cheese.
Use water or an egg wash for sealing the tortilla.
To fold: Start by folding into the center of the tortilla and seal with some water.
Then fold the ends, again use water or an egg wash to seal them to the tortilla.
Tip: Use toothpicks to close the ends as an extra measure to make sure they don't open while frying.

Fry in the vegetable oil in a deep pot in medium to high heat.
Note: Keep an eye on the chimichangas, you don't want to walk away and end up with burned food.

Practice with one and see if you have to make some adjustments with the following chimichangas.
Serve with a drizzle of cilantro sauce, sour cream, guacamole, taco sauce, some fresh salad or rice and beans.
Enjoy!
Serve with your favorite sauce, like this cilantro with some heat sauce and take this chimichangas to a whole new level of greatness. Just saying! Or serve with our Latino traditional sides, rice and beans. Also, you can keep it simple and serve with a pico de gallo and some guacamole, sour cream and fresh salad. How ever you serve it I'm use it will be amazing and you will enjoy them.
Tell me, have you made chimichangas before and do you have a favorite chimichanga recipe I should try. Drop you comment on the section bellow. Go!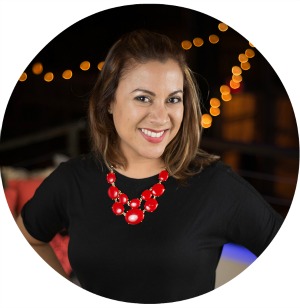 Hi there! I'm Wanda – the creator and author at My Sweet Zepol a healthy food, travel, and lifestyle blog. Passionate about food photography, food styling, entertaining and advocate about creating memories around the kitchen table. With a mission to create easy-to-make meals for the busy family.