Scones are the perfect brunch company. I personally enjoy them with a large hot cup of coffee on a Sunday morning. They taste wonders with a tall glass of mimosa too! Blueberries are a fruit we always keep on hand, specially in the freezer. Perfect for smoothies, on pancakes or muffins.
Scones is that recipe that is easier to make than most people think. You mix the ingredients together into one bowl then dump the mixture over plastic wrap and chill until ready to use. For the mini version I divide the mixture into two round disks, cover with plastic wrap and chill for a while. It makes it super easy to cut into wedges when you allow the dough to chill.
Mini Buttermilk Blueberry Scones
There's nothing like flaky mini buttermilk blueberry scones. Enjoy a fresh batch for breakfast, brunch or just with a nice cup of coffee while enjoying a good book.
Ingredients
2 cups All Purpose Flour
1/4 cup Sugar
1 3/4 teaspoons Baking Powder
1/2 teaspoon Baking Soda
1/4 teaspoon Salt
1 lemon Lemon Zest
6 tablespoons Butter, unsalated, cold and cut into small pieces
1 cup Blueberries, fresh or frozen
3/4 cups Buttermilk
1 Egg, lightly beaten (for an egg wash)
2 tablespoons Raw Sugar, for topping
Instructions
Heat oven to 425 degrees. Line your baking sheet with a piece of parchment paper and set aside.
Place flour, sugar, baking powder, baking soda, salt and lemon zest into a medium bowl and mix until all ingredients are combined.
Add the cubed cold butter into the flour mixture. Mix by hand (using a fork, or your fingers) or with a food processor pulsing a couple of times. You want to end with a loosely coarse mixture.
Add the blueberries and toss a few times in the flour and butter mixture until every blueberry is coated.
Then pour in the buttermilk and mix until everything is incorporated.
Divide dough in half. Cut two nice pieces of plastic wraps (one for each half of the dough). Dump the dough in the plastic wraps and press the dough into two circles that are about 1 inch thick.
Chill the dough for about 30 minutes.
Cut each dough circle into 8 wedges and place onto prepared baking sheet.
Cut each dough circle into 8 wedges and place onto prepared baking sheet.
Place in the oven and bake for 15-17 minutes or until firm and golden. Rotate your rack halfway through the baking time.
Transfer in a rack and let stand for a few minutes before serving. Enjoy!
Tip: if you wish to enjoy your scone as a dessert just top it with a scoop of vanilla ice cream and you've got yourself a Mini Buttermilk Blueberry Scone à La Mode.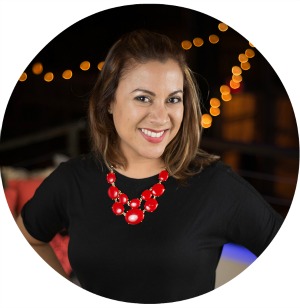 Hi there! I'm Wanda – the creator and author at My Sweet Zepol a healthy food, travel, and lifestyle blog. Passionate about food photography, food styling, entertaining and advocate about creating memories around the kitchen table. With a mission to create easy-to-make meals for the busy family.