Every year during the holidays I am requested a side dish to take on potlucks or to make at home for my family. It is also a great side dish to make for entertaining guests for dinner at home.
The one I can make over and over again and will get the most amazing compliments on is a prosciutto cornbread stuffing I learned to make years (like nine years) ago. I don't make it during the year, just because I want to keep it special for the holiday season. It's a personal choice, you can make this stuffing anytime of the year you wish to.
Here is the recipe for you to make and taste this addicting side dish at the comfort of your own home.
Prosciutto Cornbread Stuffing
Yield: 6 servings

Prep Time: 15 minutes

Cook Time: 5 minutes

Total Time: 20 minutes

Stuffing with an unexpected sweetness that comes from the cornbread and a delicious meaty prosciutto that melts in your mouth. A side dish that will become the start at your dinner table (or on any potluck) every holiday season.
Ingredients
2 tablespoons Butter
3 ribs Celery
1 small Onions Salt and Pepper
2 teaspoons Poultry Seasoning
4 sprigs Fresh Sage (chopped)
2 tablespoons Cilantro (chopped) )
1/4 pound Prosciutto (chopped)
3 Corn Muffins (crumbled)
1 cup Chicken Stock (stock or broth or, canned turkey broth)
Instructions
Heat a skillet (or deep pot) over medium high heat.
Combine oil and butter. When butter melts into oil, add celery, onions and season with salt, pepper and poultry seasoning.
Saute for about 5 minutes until just tender, keep an eye on it from time to time.
Add sage, cilantro, prosciutto and stir to combine.
Crumble the cornbread into the pan.
Moisten stuffing with broth and heat through.
Remove from the heat.
Cover with foil to keep warm.
Enjoy!
Notes
Double the recipe if needed. Specially if you want left overs, YUM!
You can use an ice cream scoop to mound the stuffing on the plates, which kiddos love, or just use a nice size serving spoon. I hope you enjoy this side dish as much as my family and friends do. It's absolutely delicious and addicting. Tastes amazing the day after, if you happen to have any left overs.
What is your favorite side dish to make at home or take on potlucks?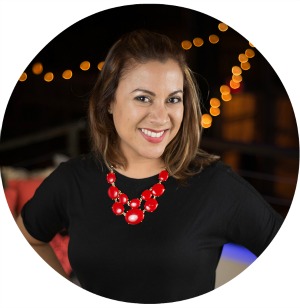 Hi there! I'm Wanda – the creator and author at My Sweet Zepol a healthy food, travel, and lifestyle blog. Passionate about food photography, food styling, entertaining and advocate about creating memories around the kitchen table. With a mission to create easy-to-make meals for the busy family.