Last year I was in love with a cupcake cookie jar my brother sent me by mail. It was very sweet of him. I, in the other hand was not taking enough care of it and had a lost! Take a look at my cupcake disaster.
Now, this year, I have found another cupcake cookie jar from the same store where my brother got me the one that broke under my care. A different design, but very cute!
Let me show you…
This is not all I bought, once I got to the store I thought I wasn't ever going to leave (ok, exaggerating a little, but I was in love with all the things cupcake related they had available).
See what else I found:
And look at it closer, it has a spoon too. After the mug I have from my honeymoon (which I keep with care and use daily) this the my second favorite. Love it!
Now, lets put them together…
See?, they look so cute together. I bought another of those mugs. One for me and another for me! hahaha… (maybe I'll share one with my husband, he did pay for all this).
Ok, I must confess that I did buy more things. I bought some towels, vinyl plate mates, and a cupcake table runner, so cute. They had plates, candles, welcome signs, aprons (for grown ups and kids too) and more items with cupcakes on them, but I had to control myself and be wise with the money.
When you go to this store, that by the way is Kohl's, please be wise and have self control. It's so easy to get out of hand when you go there and see all the beauties they have with cupcakes on them. Control people, control!
Do me a favor though, if you have this store near by, go in and get yourself something nice with a cupcakes on it and enjoy it a lot. I sure am enjoying mine!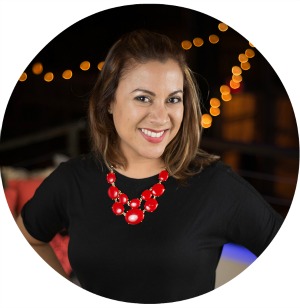 Hi there! I'm Wanda – the creator and author at My Sweet Zepol a healthy food, travel, and lifestyle blog. Passionate about food photography, food styling, entertaining and advocate about creating memories around the kitchen table. With a mission to create easy-to-make meals for the busy family.